An Interview with Slobodan Vujisic, Guitar Teacher
As you walk to Slobodan Vujisic's office, the hallways are alight with music. The high pitched screech of a violin being tuned, the distorted ringing of an electric guitar. The pinging tones of a piano, the steady, grounded beat of drums. And as you walk to the room, a new sound rings out. A classical guitar, playing romantically with power and beauty, floods your ears with a flurry of pure notes.
The classical guitar is a very old instrument, with a rich history of musical styles and playing techniques. Each decade saw a new master of the craft. Slobodan Vujisic might be this decades master, or at the very least the teachers of this decades masters. Slobodan has a distinct voice, both in his guitar playing and his warm, friendly, and distinctly European speaking voice. Vujisic has a variety of different jobs, from teacher with the ChildBloom guitar program (A network of teachers who also produce books and recording for teaching students interested in classical guitar.) to a lute player in popular renaissance music band The Austin Troubadours. You can find their manifesto and a music sampler here.  
Slobodan has mastered the guitar working hard for years and even decades to improve his skill.                                                     
"Well, I don't think there is a special secret to virtuosity," Slobodan said. "It's a skill that you build over the years, with a lot of effort. There is no special magic trick that you can do and suddenly become virtuosic. That is how it's done, and it's the only way to achieve your goal. There was a famous 19th century composer who once said: 'If I don't practice for one day, only I can tell. If I don't practice for two days, my wife knows, and if I don't practice for three days, the whole world will notice.' It's hard work, and one has to do it with enthusiasm."                                                                                                                              
When asked, Slobodan said he is most proud playing Bach on the guitar.
"Bach's music is something I've been drawn to ever since I started playing the guitar," Slobodan said. "He never wrote anything for the instrument in its current guitar, but he did write 4 suites for a medieval instrument called the Lute, which were all adapted to the modern guitar. They are really a challenge to play, so I think that would have to go with any particular Bach suite."   
As stated above, Slobodan is the musical director and guitarist of medieval music group The Austin Troubadours.
 "I wanted to do something that was different, because medieval music is so different than any of the romantic classical music in the sense that most medieval music is vocal music." he said. "So when you approach that, you have to take this as a starting point and build your own musical take from that, whereas with Classical you can only play based on what's on the page. Another reason is because I really enjoy playing live. Audience communication always inspires me to do the very best that I can at the moment."   
Slobodan has a history with music that extends to his past in Europe.
"When I was a teenager, which was a long time ago, I attended a summer class in a little village in Slovenia, in Eastern Europe." he noted. "The classes were taught by a group of musicians from the conservatory in Florence, and that was a turning point for me. They really inspired me me, with their artistic musical approach, and later I went to Florence in their footsteps and grew to love it."                                     
Slobodan also is a teacher for ChildBloom, a program for instructing kids on classical guitar.
"The story of how I got involved in ChildBloom goes back a long way.I was born in Belgrade, which is the capital of what is now Serbia, up until I was about 40." he said. "Unfortunately, the political climate was bad at that time, and I was looking to change the place, to get my family out of there, so I sent resumes to many addresses around the world, and the gentleman who founded ChildBloom was quick to respond. He did everything in his power to bring me here, and since 1994 I've been working for them. When I was in Europe, I had a group that was doing similar things as The Troubadours, my current medieval music band. We were called Ensemble Renaissance, and we were very successful, we toured and recorded. But when I came to Austin, I found that I was missing that part of playing music. So I founded The Troubadours on the same idea, of playing Medieval music in a faithful way."   
While Slobodan's main instrument is of course the guitar, but he also plays lute. However, he says, "I wish I could play the Cello. The color and richness of the sound is something that I've always admired." he said "Now if I wasn't a musician, I always wanted to travel. When I was a little kid, the answer I would give would be "Captain of the ship". I had an uncle who actually was a captain, and I always enjoyed his stories of sailing, traveling overseas and trading goods with other nations. So if I wasn't a guitar player, I would probably be some job that entails traveling."
As the interview ends, I leave the studio. The instruments are slowly fading as the other instructors pack away their books and go. But in my head, I can still hear the sweet sound of classical guitar.    
About the Writer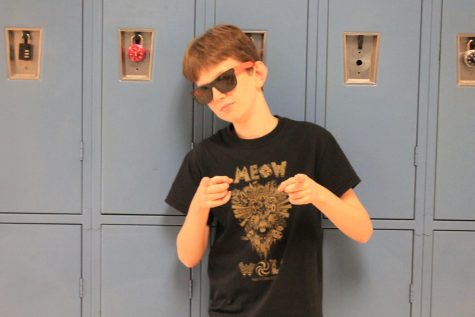 Oliver Barnfield, Cool Guy/Entertainment Editor
Oliver is a Canyon Echoes veteran who currently works as Entertainment Editor, and he also directs and stars in The Opinionist, Canyon Echoes 1st video...