Balancing Art And Academics: Interview With Anna Mikhayluts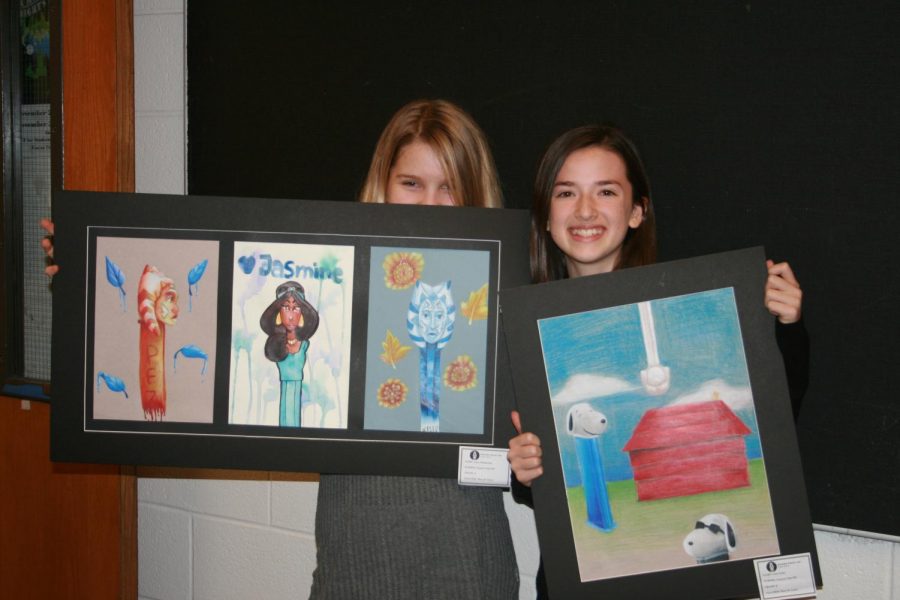 Every middle school student knows that school can be hard, whether it's because you're swamped with homework, anxious about the people around you, or just generally psyched out with everything that's happening. When you have a free second in class, or when the school day is done, you're ready to be done too. You either put your head down, breathe in the second of free time, or immerse yourself in social media and video games. But for some students, their brain is constantly turning and creating, contemplating work they want to do. These students are artists, using their free time to scribble in their sketchbooks, and their time after school to finish plans for art pieces, or complete sketches they did during the day.
One of these extremely hard working artists is Anna Mikhayluts, an 8th grader who has been drawing from the age of three. Her dedication to artwork carries beyond her 8th-period art class with Ms. Mary Loera, and into her every second of the day. During advisory and free spaces in classes, you can spot her with a pencil and sketchbook in hand, working furiously, planning her next piece. Even when you can't see her actively working, her head is always spinning with ideas and critiques of her own art.
"Art is my way of expressing my feelings and emotions on paper. For others, it may be dancing, music, or sculpture, but for me, it's drawing," Mikhayluts said.
She balances between art and academics.
"It's pretty hard to keep from drawing during class when I have so many ideas that I want to get out onto paper. My teachers never like it when I'm drawing during class, but it's hard to not do it."
To Mikhayluts, art is more than just a talent that she possesses, it's a way to completely express herself non-verbally.
"I don't make art because I'm inspired, I make art to get my own emotions out. I'm not very social and its a way for me to get my issues out," Mikhayluts said. 
Not only does she enjoy what art does for herself and her emotions, but what it does for others, "Art seems to spread joy and inspire others, whether it's art that I make that seems to inspire my friends and peers, or just other people I see making art, and the amount of joy and inspiration they get from it" Said Mikhayluts.
Although Mikhayluts is more of a modern artist, preferring cartoons and non-realistic interpretations of how she sees the world, she still appreciates classical art. "One of my favorite classical artists is Valentine Serov, a Russian artist, and one of my favorite modern artists is Takashi Murakami, they're both very different but I appreciate the elements they both use in their pieces," Mikhayluts said.
While Mikhayluts is only 14 and in 8th grade, the idea of her future, and how art will be woven into it is already on her mind.  Saying "I see myself pursuing digital design, and being an independent artist making money off of commissions on the side"
And she's not alone in her artist journey, with her art teacher by her side and educating her. "My art teacher is Ms.Loera, I like having her as a teacher because of her ability to supply a calm and serene environment for her students to do art in, and is very understanding and supportive of her students, regardless of their style or level of skill"
"Anna works extremely hard, and is one of the most committed students that I know, she always works hard in my class," Ms. Loera said.
As much as Ms. Loera's art students vary, so does Mikhayluts' art medium and style. "I have the skill to draw realistically, but I prefer drawing in my own more cartoony style outside of art class, and I like to use pencil and pen for my doodles, occasionally using alcohol based markers. I go through phases, I used to use markers all the time, even bringing them to school, but now I find myself just messing around with pencils, pens, and even highlighters at school"
"Anna works extremely hard, and is one of the most committed students that I know, she always works hard in my class," Mrs. Loera said.
Art is one of the hardest things to accomplish because art cannot simply be taught like a math problem can, there are no formulas or rules. Art can only be developed through time, effort, and support. Here at Canyon Vista we have many artists roaming our halls and participating in art classes with either Mr.Ramirez, Mrs.Loera, or Ms.Pollard, all art teachers that supply our young artists with the tools and time they need to further develop their basic skills such as shading and perspective, but also to develop who they are as an artist. It may take a lot of time, effort, and support, but Anna Mikhayluts has persevered and continues to pursue her life as an artist.
About the Writer Zack Catuogno, Reporter
Zack is an 8th grader that appreciates and enjoys almost nothing, with the exception of art, music, and reptiles.