Canyon Vista Football Opener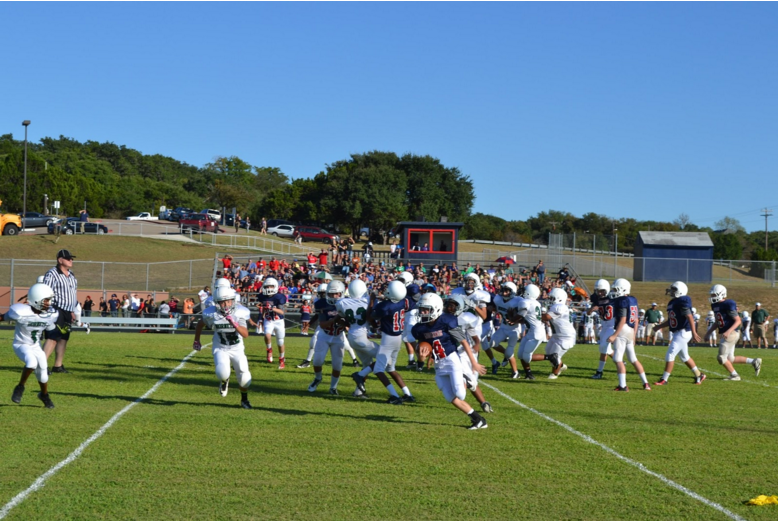 The Canyon Vista Mustangs played the Hopewell Hornets this week and all 4 teams fought hard, but couldn't pull out a victory.
The seventh graders played on Monday here in the Canyon. The blue team lost 26-0. Penalties killed the mustangs as a long touchdown run by Nick Delgado was called back. The red team lost 22-0. Penalties were also a big story as late in the fourth quarter, a long pass from Rohan Gupta to Nickhil Anantha was called back on questionable call.
The eighth graders traveled to Round Rock High School on Tuesday. The blue team kept it close as they were leading at halftime, but couldn't close it out as they lost 28-18. The red team lost with the same score as the seventh graders, 22-0.
After the game, Coach David Rice had some positives and negatives for the games. "Offensively, we were able to execute our basic running plays. Defensively, we forced a fumble and intercepted a pass," says Rice. "For both teams, we need to continue in our improvement of our fundamentals through hard work during practices." Rice also had some positives not only for the players, but for the fans who came out to support the mustangs. "We appreciate the support from the cheerleaders, students, parents, and fans–before, during, and after the games. The teams enjoyed all the enthusiasm that was shown to them."
The seventh graders will travel to Stony Point High for their next game against the Hernandez Bulldogs, while the eighth graders will play here at Canyon Vista. Come out, support your mustangs and see you at the game!
Leave a Comment