Love, Simon – The Movie LGBTQ+ Teens Needed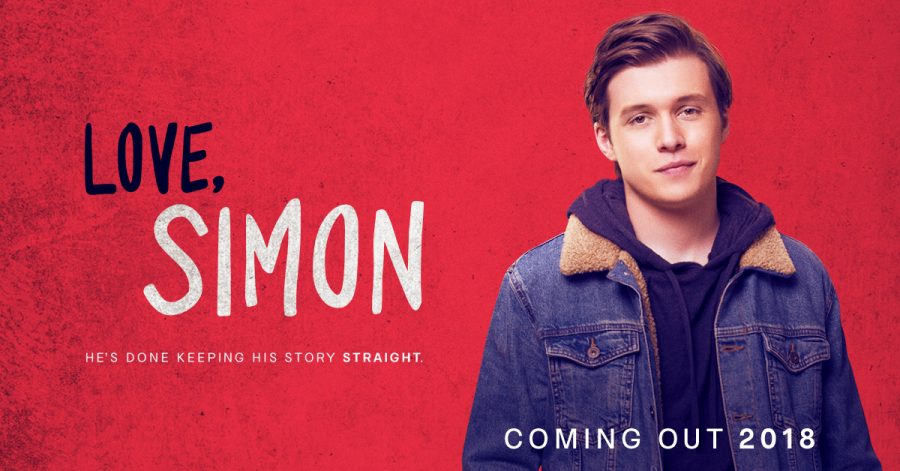 Love, Simon is the new groundbreaking movie about a gay teenager Simon Spier, who is hiding the secret of his homosexuality from his friends and family, all while falling in love with a fellow gay student with whom he communicates anonymously. It is based on the book Simon Vs The Homosapiens Agenda by Rebecca Albertalli.
It may not seem like a big deal at first, but having a movie about gay teenagers, for gay teenagers, with a PG-13 rating, is a huge step forward for LGBTQ+ representation in the media.
"Love, Simon was such an important movie for me. I'm not gay, but I'm a member of the LGBT community, and seeing such a cute and innocent love story about a group that never gets to be in the spotlight was so amazing," Avalon Adams (8) said.
It's a truly unique and important experience to see elements of your life on screen in a room surrounded by other people. To have your struggles and triumphs that are usually a minority portrayed for all to see is a wonderful thing. And for many members of the LGBTQ+ community, Love, Simon is that experience for them.
The movie is not only important to the audience but the cast as well. One of the actors actually came out because of the movie, Joey Pollari, who plays Lyle, one of Simon's love interests. He recently publicly came out for the first time in an interview The Advocate, partially crediting his confidence in coming out to Love, Simon.
"Love, Simon was really relatable, and on top of that it told a really good story. It gave me hope, and had a theme of compassion," Bryan Groves (8) said.
Regardless of sexual orientation or gender identity, Love, Simon is a story that everyone can relate to and enjoy. Whether you enjoy the love story, or seeing LGBTQ+ representation, Love, Simon is a movie everyone should take the time to see.
About the Writer Zack Catuogno, Reporter
Zack is an 8th grader that appreciates and enjoys almost nothing, with the exception of art, music, and reptiles.