E Books in the Classroom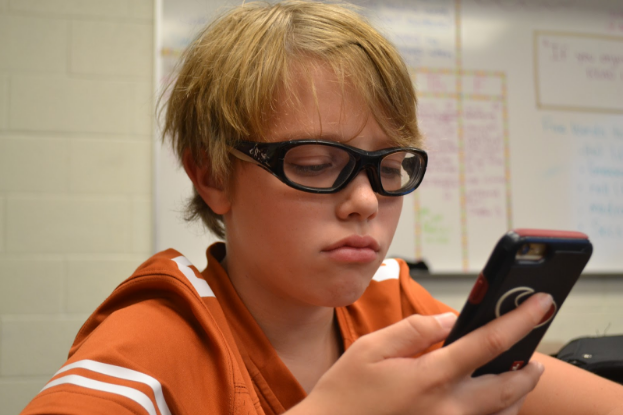 Electronic readers have been around since 1949, and while the inventor of the first e-book is widely debated, the most known starter of them is Ángela Ruiz Robles, a school teacher from Spain. She patented the first electronic book system, la Enciclopedia Mecánica, or the Mechanical Encyclopedia. Her goal was to reduce the amount of books students had to carry to school. Her idea is still carrying on in schools today.
In many Language Arts classes at Canyon Vista, students have been using variations of e-books.
Many students find it easier and more efficient. "Reading on my phone is easier and more efficient to bring to school, since I have my phone with me anyways, it's one less thing to carry around and keep track of." Spencer Miller (7) said.
With the ever growing world of reading devices and programs, paper books are slowly being replaced in the classroom. In classes where you are required to read, e-books are allowed, as some students may not have the money or resources to buy books and go to libraries. However, in other classes, electronic devices are not allowed to be used, with the exception of BYOD days.
Teachers have responded well to the use of e-books." In some cases, E-books and reading on electronic devices can motivate students to get involved in literature," Aidan Larson, 7th grade LA teacher, said. "But overall it's better to own a paperback or hardcover book in schools, so we are able to annotate, and easily flip pages and mark on it if needed."
Some students will take advantage of this freedom, and abuse it by playing games or messaging their friends, aside from reading a book, and with the quick acting technology of today, they can easily switch over to another app before their teacher notices.
About the Writer Zack Catuogno, Reporter
Zack is an 8th grader that appreciates and enjoys almost nothing, with the exception of art, music, and reptiles.