Yearbook 2k19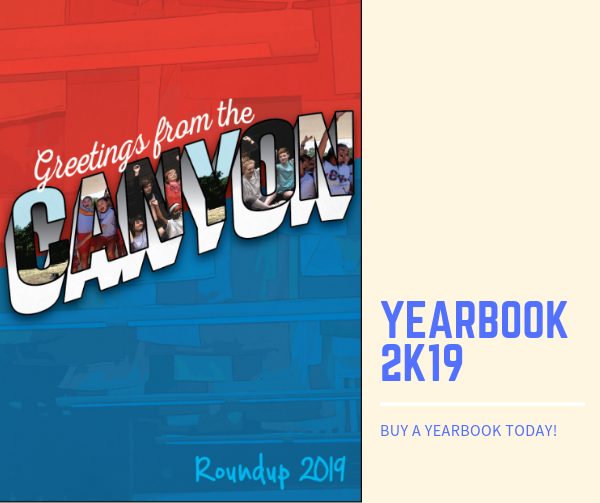 Charlotte Blackmon, Reporter
May 7, 2019
Imagine you're sixty eight years old with an annoying and egotistical grandchild. He (or she) is just about to try out for a sports team at his (or her) school, and you mention that you know a thing or two about that particular sport. Your grandchild scoffs. 'What's so funny?', you ask, raising an eyebrow.
'You never played sports. You're old.'
'Bet', you say. Your grandchild laughs, as 'bet' is outdated slang. 'Well, if you don't believe me, I can show you', you say to the irritating maggot that is now writhing around the floor in laughter. You pull your dusty 2019 yearbook off of your shelf and turn it open to one of the pages between 121 and 125. Then you point to your face in the crowd. Your grandchild sits up, suddenly interested. Then they see what you're pointing at and dismissingly wave you off.
'That's not you.' You trace your finger down to your name. The child's eyes widen to practically the size of dinner plates and they whip back and forth between you and the yearbook. Then, when it finally sinks in that you, an old person, used to play sports, your grandchild promptly starts bowing to you over and over. You laugh internally.
If you want to prove to your awful grandchild that you, an old person, can play sports, what better way than to make your way to Mrs. Sharpe's room and pick up a yearbook of your own? This year's yearbook is postcard themed- its title is 'Greetings from the Canyon'. On the back of the book, you can write your favorite Mustang Memory on a shiny postcard.
The yearbook features 144 pages of precious memories you can look back on for the rest of your life. It starts with summer events that students sent in, then goes on to fall events. This includes pep rallies, clubs, fall elective performances, and even students' Halloween costumes. Then it moves on to winter, starting with things that students did over winter break. You can see sports events, the Valentine social, the musical, and even career day in this section. The spring section kicks off with pictures of track events, and it includes a feature on BIM products, tennis club, and spring competitions. After the spring section, you can look through pictures of all of your classmates, from sixth grade all the way through eighth. In this section, there are also short stories about students and their hobbies. Then you can see all your eighth grade friends' embarrassing (and adorable) baby pictures or a special graduation note from your parents. Finally, there are the sports, electives, and clubs' group pictures, followed by the index where you can find every picture of you that there is in the book… without having to read the entire thing.
There are only about 100 left, and they really do go quick. Pick up your very own yearbook for less than 50 dollars!