Goodreads Choice Awards
Every year, Goodreads' faithful users log in to the website and cast their vote for the best books of the year in all their favorite categories. How did the 2020 results turn out? Let's see.
At the end of every year comes a time unlike any other. The App Store selects its best games and apps Of The Year. The New York Times selects its puzzles and books Of The Year. Sites like Polygon and Screen Rant choose their games Of The Year. But the list that every avid reader truly anticipates–waiting with bated breath to see which of their favorites might finally garner some recognition–is the Goodreads Choice Awards.
Voted on by 'the people' (a.k.a. Goodreads users everywhere) through three rounds of polls, these awards are a figurative and literal gold star for the books that made readers laugh, cry, or stay up until five in the morning reading that year. However since comparing say, a cookbook to a Young Adult fantasy book is fairly difficult, a system has been made to divide books into certain categories. The system divides the books into twenty categories: Fiction, Mystery & Thriller, Historical Fiction, Fantasy, Romance, Science Fiction, Horror, Humor, Nonfiction, Memoir & Autobiography, History & Biography, Science & Technology, Food & Cookbooks, Graphic Novels & Comics, Poetry, Debut Novel, Young Adult Fiction, Young Adult Fantasy, Middle Grade & Children's, and Picture Books.
While all of the winners are available on the Goodreads website, there were many books that were the talk of the town for the weeks and months leading up to the awards. For instance, Silvia Moreno-Garcia's Mexican Gothic was popular amongst thriller and horror fans all year, and Crescent City, by beloved fantasy author Sarah J. Maas, was sure to make a splash.
There were plenty of other incredible books who rightfully won. Strange Planet by Nathan W. Pyle is a hilarious, extra-terrestrial glimpse at daily, earthbound life through a graphic novel lens. A Promised Land by Barack Obama sold over 1.7 million copies in its first week. The Queen of Nothing by Holly Black is a heart-in-throat final act in her beloved Folk of the Air trilogy, and Rick Riordan's much anticipated Tower of Nero concludes the bestselling Trials of Apollo series.
Sometimes, after a long year, what readers need is the glowing affirmation that their favorite books really are that good. The hope is always that at the end of the day, you find some amazing books to curl up with and read.
Leave a Comment
About the Contributor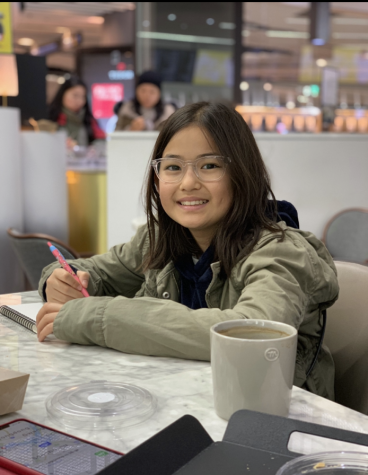 Sabrina Kim, Reporter
Sabrina Kim loves to write, draw, knit, and act, among many other things. She's got a stack of books a mile high and not enough time in the day to read...