Pachinko: A Book Review
A Review of Pachinko by Min Jin Lee
This book originally started trending on social platforms and has since gained incredible amounts of fame. Multiple reviews illustrate Pachinko as an "epic," however I wanted to give my own two cents on the matter.
Plot
To begin with, Pachinko is a novel revolving around the life of a woman named Sunja. Born in 1910 Busan, South Korea, she belongs to a simple family, with the business of owning a motel. At around 17, she becomes pregnant unexpectedly, which entirely turns her life around. A pastor decides to marry her to save her reputation, and together they move to Osaka, Japan, where they start the beginning of a very large family.  The book follows Sunja's family as it grows. Some of the book's themes include racism and multigenerational history, and it illustrates the lives of Koreans in Japan during WWII.
Note: I recommend that anyone without a level of maturity does not read this novel. It has frequently occurring profanity, etc. Personally, I rate Pachinko as 15+. Please keep this in mind before or if you should ever decide to read it.
Review
Story
The author, Ms. Min Jin Lee, has incredible talent when it comes to conveying impactful tales. If I'm correct, this story is not completely true. However, it is accurate in portraying the life of Koreans during WWII, as I've found through research.  The way this book is set up is very well done. It started with the life of Sunja, and ended with the life of her grandson, switching through multiple people's lives throughout the book. Through synopses and blurbs, I would admit that I wasn't enticed by the summary of the book. It's now safe to say that none of them did any justice to the book. The story, along with the way the author wrote it, is completely riveting.
Moral
This book is actually important to read, as it introduces the reader to another World War II perspective.  It helps you realize that the life of Americans during this time was different than the life of others.  Given this, I believe the current generation has become accustomed to American War stories, and it's very important to understand that ours wasn't the only side of the story.
Language
The language used in this book can be somewhat difficult from time to time, however, I found that this made it more entertaining. The way Pachinko is written describes the setting to minor details, and this aids what the reader imagines of it. Of course, there is profanity, however, that is a part of day-to-day life so I believe it shouldn't take away from the rating of a book. Other than this, I think the imagery provided in this book is spectacular, and it was very eloquently written, which is evident throughout the book.
Chapters/Sectioning
The transition from chapter to chapter in Pachinko can be extremely confusing as they tend to constantly change from person to person. For instance, chapter one could be told by Sunja, while chapter two could be told by her son. I found this out a bit later in the book, so I had to reread a small portion of it again to understand it better.  This book certainly requires careful, slow reading, in order to not miss anything.
Characters
Every character in this book had incredible depth, and there isn't a single complaint I have about any of them. While there aren't complaints about the characters, the length of the book posed a problem in comparison to the number of characters in it. There was a huge number of characters that told portions of the stories, and I feel that the length of the book didn't do justice to introducing them properly.
Overall
RATING: 9/10
Personally, Pachinko is the best book that I've read in a while, and its pros outweigh its cons.
Leave a Comment
About the Contributor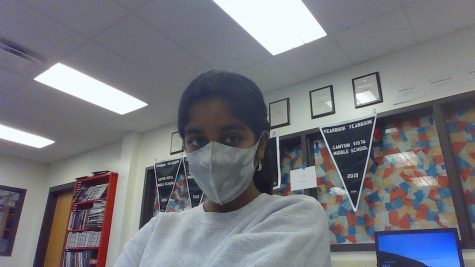 Divya Shankar, Reporter
I'm in eighth grade - I love writing, taking and editing pictures, and watching movies