Meet Rakshinee Sreekanth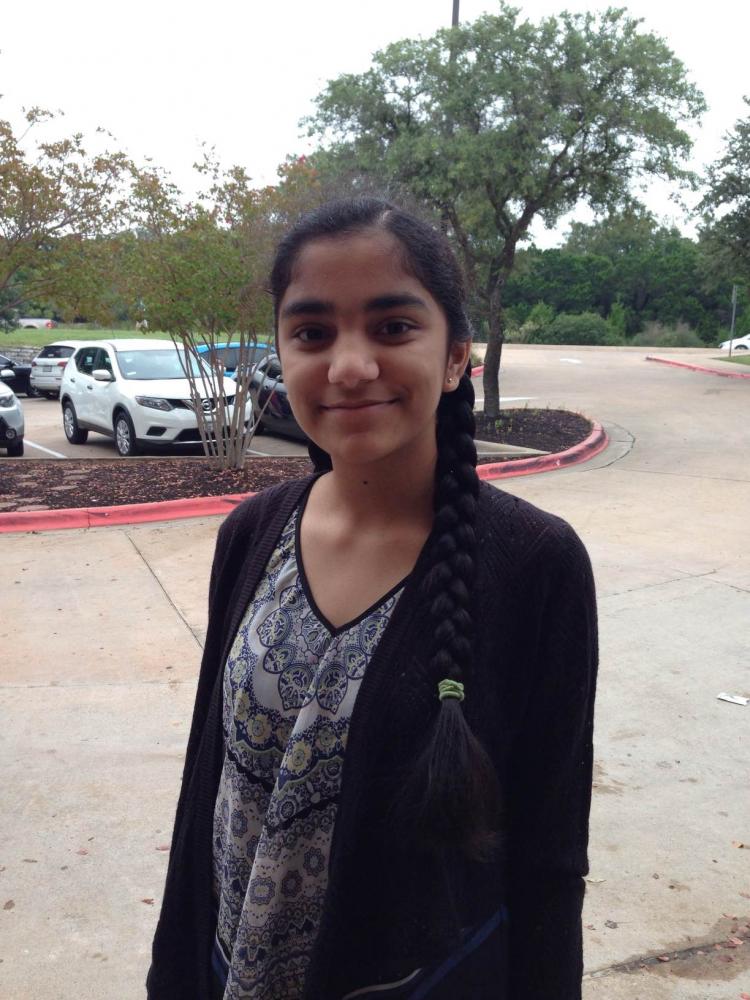 Meet Rakshinee Sreekanth, an eighth grader. She takes HS Art 1, Honor Choir, and Spanish B1. Maybe you've seen her at the Choir Spring Show last year, or some of her beautiful artwork. She helps her mom out with teaching music. Let's see what it's like.
Q: What kind of music do you teach?
My mother and I teach Classical Carnatic Indian music, which a deeply rooted spiritual form of music that involves religion, and has been around since humans evolved. They are deeply philosophical and according to the Vedas, the Hinduism similar version of the Bible, Carnatic music is the quickest path to deep spiritual, mental, physical, and soulful of enlightenment.
Q: Do you think you'd want to keep on doing this when you get older? If not, then what do you want to do?
Though this will not be my main job, I will most definitely teach a few kids on the side of my job when I am older. Teaching music is the only way to stick with music, and continue practicing and retaining all the knowledge that you have learnt before. I may also teach a few kids art on the side, if I have time.
Q: About how many people do you get a week?
My mother is the main teacher of the classes, but I occasionally help out and help my mother teach in the most efficient and beautiful way possible. My mother has about 60 students, both adult and child, and I help out about 40 of them.
Q: How do you manage to teach and get good grades?
As I said, I occasionally help out my mother, so it is not too protruding in my studies. However, balancing my own music classes (I have to practice for my individual classes for about 8-9 hours per week) with helping my mother and keeping my grades steady is a bit of a juggling act. I make sure, above all else, that I at least practice on my own and everyday.
Q: You said your mom also teaches music. Is it awkward when you see one of you or your mom's students at school?
It's not very awkward, some of my close friends go to my mother for music class and I occasionally ask them how it's going for them. If I see a student that I was not friends with beforehand, I will probably just politely smile of ask them how classes are going.
Q: When was the last music competition you went to and how did you do?
The last competition I participated in was a national wide Carnatic music competition in Cleveland. It was an amazing experience to just be there, as for the competition, they brought in famous musicians to give concerts and talk about their experiences. I did not win anything, but I'm still happy that I participated.
Q: For this year's Choir Spring Show, are you thinking of trying out for a solo song or part?
I am definitely considering doing a solo somehow in the Spring Show. Once I receive the theme for this year, I will be sure to research and find the perfect song (I really want the theme to be Disney ;)).
About the Writer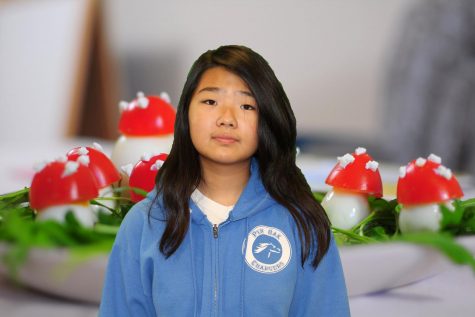 Erith Won, Reporter
Erith is an avid, enthusiastic eighth grader who lives on K-pop and Manga and loves to watch hilariously nonsensical movies. She spends her days listening...