Truth or Dare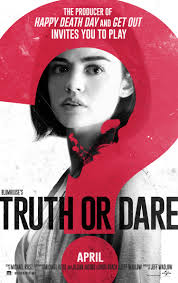 Truth or Dare, also called Blumhouse's Truth or Dare, is an American horror film releasing tomorrow on April 13th. The movie stars Lucy Hale, Tyler Posey, Violett Beane, Sophia Taylor Ali and Landon Liboiron. Inspired by the name, the movie is about a group of friends who play the game of truth or dare, but it goes horribly wrong when someone or something deadly punishes them when they lie or don't do the dare told.
Directed by Jeff Wadlow, the movie has got a lot of critics, and most of them aren't good. It's been called "exaggerated" and "slow-witted." The intent of this movie is to be scary, but it's said that there were more giggles than gasps. This movie has spent a lot of money on advertising, with multiples ads on YouTube and t.v. A critics consensus said: " Truth or Dare's slick presentation isn't enough to make this mediocre horror outing much more frightening than an average round of the real-life game."
Truth or Dare is rated PG-13 : for violence and disturbing content, alcohol abuse, and language. As a person who doesn't watch horror movies, it looks pretty scary to me, but for all the horror fans out there, this may not be the scariest movie you've watched. The movie was rated 28 on rotten tomatoes, which isn't very good. "I really want to watch the movie, it looks so creepy," said Hemani Goje (8). The game, truth or dare, is always an interesting game to play, but the movie takes it to another level. The movie is said that it's not scary, not gripping, not fun but just keeps you on your toes to find out what's next.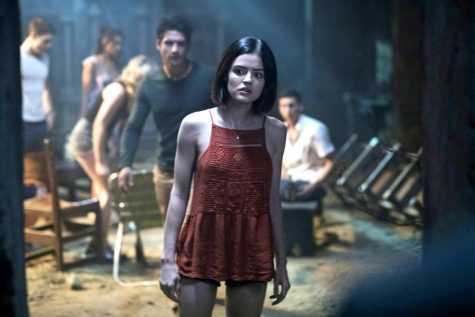 About the Writer
Ruth Martin, Reporter
Ruth is an all around good person. She has been swimming since she was eight and loves drawing. She likes photography and writes a lot. She enjoys travelling...