Spring Show Rehearsal
Hang on for a minute...we're trying to find some more stories you might like.
As most of you know, our choir students will be performing in our Annual Spring Show. This year's theme is Coldplay, and they will sing Paradise, Viva La Vida, A Head Full of Dreams, In My Place, Up and Up, Violet Hill, A Sky Full Of Stars, Yellow, Clocks, and Adventure of a Lifetime. On Friday, I got to see Jonas (choreographer) and the whole choir sing Paradise, Viva La Vida, and Head Full of Dreams, and they sounded amazing. every harmony and every solo brought every song together, and I only saw three.
"Overall, I think the show is really coming together. The harmony's and solos all sound so amazing and I hope the audience will love it as much as I do." — Catherine Ramage (7)
"Jonas is super cool and stylish, I love his choreography, though it is hard. He makes learning the dances so fun!" — Ana Vines (7)
"The songs are super fun and cool. I love performing Coldplay with all my friends." —  Seth Windell (7)
The choreography is super hard but also really fun. I like the combination of sign language and just regular dance moves." — Alyssa Moyer (8)
"I have had a blast working on the spring show! It's so fun singing with friends and I can't wait to perform for an audience!" — Sophia Baruah (7)
Our very own, Oliver Barnfield (7), was chosen to do the lighting for the spring show. Here's what he has to say, "I like doing the lighting because it's new and I have never done tech before. It's also the first spring show I'll see and I get a front row seat."
From what I saw, the Spring Show is going to be worth every cent for the tickets. The show is May 12, at 1, 4, and 7 pm. Tickets are $5, so be sure to check them out!
About the Writer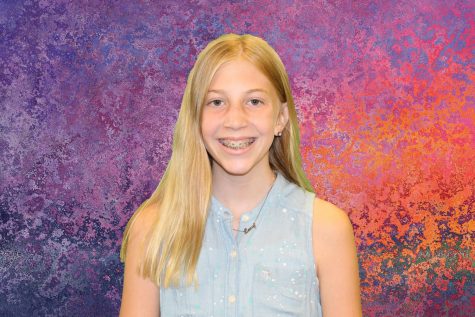 Lucy Wassmuth, Reporter
Lucy is an outgoing, funny, and caring seventh grader. She is a Broadway addict and professional procrastinator.  When she grows up she wants to be an...