Cross Country at Canyon Vista
Last year our seventh and eighth grade Cross Country girls were the district champions with our boys not too far behind. This year our runners start off on a good foot with the season going on for about six weeks from September through October.
How I can get in?
To join the Cross Country team you don't actually have to be in athletics. You don't even have to be that good at running. As long as you're able to complete a physical, you can run with the team. If you are a sixth grader looking to join, you may only participate in the practices. When you move up into seventh grade, you'll be able to participate in meets. At the end of the year, the sixth graders will get to participate in a meet set up just for them.
What are practices and meets like?
At practice, they start with a warm-up to get their blood pumping and muscles moving before they run. Then, they'll run from about one to three miles going around the track. During meets, the mustangs will compete against other RRISD schools.
"We do long-distance running at Canyon Vista in practice. We get to run around the neighborhood for 2 miles at meets," Coach Curry explained. "The expectation is that you love running or you want to get better and you're willing to run a mile or more out here and basically being committed to seeing your Cross Country team succeed."
What if they get lost in the neighborhood? you might ask. There's no need to worry because they're running supervised. If you are looking to join and still feel unsure of your navigation skills, there are volunteers who'd be more than happy to help. If you have a parent who is always looking to help out, then they could volunteer to run. Neighbors and family friends are welcome to join too. For example, Mr. McGuire is a friendly neighbor who will sometimes run with the team.
What will I get out of this?
Here is some input from students that should answer your question.
"It's really fun to run with the people who really push me. I'd definitely keep doing it," Elise Trenk (8) said. She just started doing Cross Country this year. I could tell she was really amped and confident in her running.
I also asked Andrew Bitron what he thought was good about running in Cross County.
"It helps improves your running skills," he replied. I asked him how he felt after running a mile and he said he was out of breath but it was worth it.
As I asked more students, more kept saying that it was more fun just having the experience than just the running. Most had told of how great the volunteers were and how cool it was to be part of the team. Even though the blazing hot sun was out, I could feel a ton of good vibes coming from the team.
Leave a Comment
About the Contributor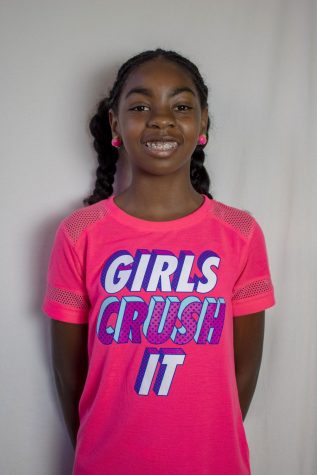 Harmony House, Reporter
Harmony is a 12-year old who loves watching 80s & 90s movies. She is very resourceful, likes to think outside the box, and puts in her best efforts...