The Sticky Note Movement
Angelina Gellini (7) thought people needed to have an inspiration to be kind to others. She decided that a great way to do that was to put sticky notes of inspiration on every locker in the school. Some had quotes and even just some inspiring and kind words on it. Angelina had quotes by Helen Keller, Dr. Suess, and even Will Rogers.
"I was inspired to do this because October 10th was mental health awareness day. I wanted to let people know that it is ok to be who they are and think what they think," Gellini said.
She stayed at the school till 11 pm to put up all those sticky notes It took her about a week to write all of them.
I asked a few people what they thought about the sticky notes.
Alicia Westland (7): "What she did was really inspiring. Surprisingly I could relate to the one that was on my locker."
Eera Gour-Gupta (7): "I think that it was really cool. It was really nice to do, and to stay at the school for so long."
Isabelle Horonzy (6): "I like how there are so many different colors. I think it's really fun. I also like how they have so many different quotes from so many different people."
Eilee Bloom (6): "She was super cool to do this and it's very inspiring."
About the Writer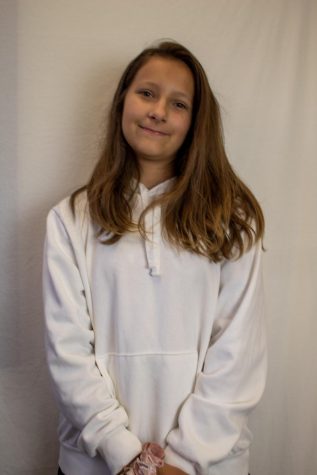 Mercy Forrister, Reporter
Mercy is a seventh-grader, a writer and a volleyball player. She lives with her three siblings and her parents, she also has six pets. Mercy would love...