Eighth Grade Football Crushes Grisham Grizzlies 35-8
The eighth grade football team had their last game on Nov. 6. They played their hardest defeated the Grisham Grizzlies and won the game with a score of 35-8. Their overall score of games won to lost is 6-1 A team and B team is 6-0. They worked super hard to get where they are today. They have come in either after school or before school almost every day to practice and get better. They've come to school and practiced through the burning heat. They've changed in and out of all that gear and continued to run outside. Cool-weather is probably a blessing to these 8th graders.
Most people play football because they enjoy it or because they are good at it. Or maybe even just because they want to get better at it or all sports for that matter. "They have improved so much throughout the season, and I'm really proud of them for that. I am also proud of them because they have had a great season, the B team is 6-0 and A team is 6-1. I'm glad to see the effort they've put forth during their games." says Coach Azios. The players say things like, "I play football because it's fun and it involves a lot of teamwork." Owen Norrell (8).
What did they enjoy or improve through the season?
Each and every one of the players had something about playing football at Canyon Vista that they liked or enjoyed. Michael Davis(8) says, "I like playing for CVMS because there's a great bond between teammates here. And we all hype each other up."   Everyone probably has different reasons why they like football or playing football, which is why I also asked Lane Wood(8) why he played football and what he liked about it he said, "I like the energy we put into practice and I really like how much fun it is."
Most of the players have improved in things through the season. They could have improved at running from all the constant running you have to do in football. Or maybe they improved mentally like with teamwork since you have so many teammates that you have to learn to work with. Kevin Karat (8) told me. "I think I have improved on my skills of being able to set through the offensive line and I have also gotten stronger than before." The coaches may have even improved on somethings because they have to work with a different group of kids each year and they could challenge the coach in a way he's never seen or thought about before.
Obstacles
This team has gone through many obstacles throughout this season. One obstacle was when a player got injured the day before a game. Hayes Loyd (8) injured his forearm during practice and had to get picked up by an EMS on a Monday, minutes before the 7th-grade game. The 8th-grade coaches and teammates had to quickly figure out how to recover from this tragedy. The coaches had to decide things like who would play for him, then that person had to learn how to fill in for Hayes.
How did the game go according to players?
After the game, some of the players had something to say about how they played. Pablo Zavala(8) told me "I think I did very well. I went 5 for 5 on my P.A.T.S. I made good tackles and had an 80-yard touchdown, I think in the game I realized that I play football for God, gold, and glory." Based off of all the screeching cheers the players heard you can tell the crowd thinks they did pretty good. They beat Grisham and played very well. They had a great defense and some players even ran almost the whole field to score a touchdown. Those people who ran the whole field succeeded which was one of the main reasons we won.
We should all congratulate the 8th-grade football players for finishing off the season. If you see a coach or an 8th grader who was on the football team give them a high five and tell them how good they did. They deserve a pat on the back for how much effort and hard work they have put forward. They have shown how much hard work pays off.
Leave a Comment
About the Writer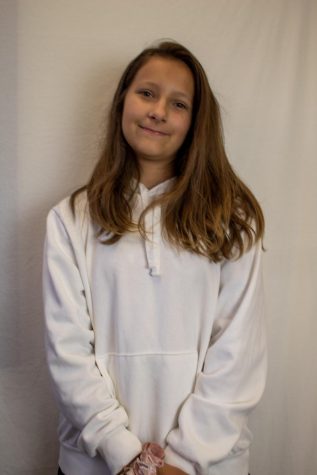 Mercy Forrister, Reporter
Mercy is a seventh-grader, a writer and a volleyball player. She lives with her three siblings and her parents, she also has six pets. Mercy would love...