Glossier Obsession: What CVMS Thinks
From blog to beauty brand, Glossier is more than just a trend. It is all-natural skin care to make up a brand that is popular with teens everywhere; middle schoolers carry their Balm Dotcoms or lip glosses in their backpacks, and their seasonal stickers stuck to their water bottles. "Being inclusive is our number one value. We want to inspire, but we also want to be realistic and show the beauty in real life."- Emily Weiss CEO for Glossier. What they advertise is cute packaging and pop-up stores trending on Instagram. If you wear makeup or not, this is something you've probably heard of. Other than trendy packaging they are known for their makeup that is cruelty-free, vegan, and all-natural. They sell lotions and perfumes as well but they are best known for their sets that save a lot of money when you buy several of their products together. Other than their skincare products, they are known for their makeup. We know that Glossier is famous around the world, but what about in schools? Let's hear what CVMS has to say about Glossier. 
Is Glossier different? 
In the beauty world, sometimes people buy a product because everyone has it. Is this brand like that? Glossier markets with more of a focus on skincare. As a blogger, Emily Weiss created a company off of what she wanted to see more in the beauty world. They even have Glossiwear, which is their merchandise. The new age of social media has made marketing and popularity trends so much bigger than they were, but is that a good thing? It isn't just the product that is getting everyone's attention. The packaging is as Instagrammable as it gets. Pink and black, bubble wrap, and seasonal stickers. The prices seem like they are more affordable until you get to check out. They have so many serums and moisturizers that you end up confused and in debt. The only thing that isn't said about them is if they work, or if you are buying their products to feel like they work. Is that the case? Certain products get more hype than others. And just like pretty much every brand out there, they have some great products and some flops.
Favorites
One of my favorite products is the Balm Dotcom; it isn't just the texture and the price, this is a cult favorite because of the flavors and tints that add something more than the average lip balm. Like other students and adults, Balm Dotcom has attracted attention mainly because it's both affordable and cute. It has eight flavors; they are also tinted, which removes the need for lipstick. You can get a birthday cake which has a little bit of sparkle to it, or just original, which is understandable. "I like the lip gloss from Glossier. It is both affordable, easy to apply, and lasts me through the day. It is super hydrating, so my lips don't get chapped."- Molly Harvey (8). Although they have their lip gloss in sparkly or red, clear is just as good. Some people complain that it is a little too sticky, but it is easy to apply and keep in your backpack. "I love Cloud Paint because of all the available colors, they are so cute, and they blend into your skin perfectly. The product is so versatile; I love using it."- Maggie Lu (8). It is a highly rated product that attracts people to the finger application, colors that match every skin, and a texture that blends well. I love the milky jelly cleanser as well, it smells incredible and is such a gentle cleanser. This is their most popular skin care product that is both jelly-like in texture and a highly rated product by fans everywhere. 
Conclusion
Although Glossier has its problems, it is a beloved brand in schools and around the world. In this article, we just focused on CVMS favorites, but their products aren't perfect. They just released a set of matte eye shadow sticks, Sky washes, and release new products every year. To buy cheaper, you can buy in November when their Black Friday sale is going on. They are being used by girls and boys and universally send a message to love your skin. You can check them out at Glossier, and for your first order, you can get 10% off… click here.
Leave a Comment
About the Contributor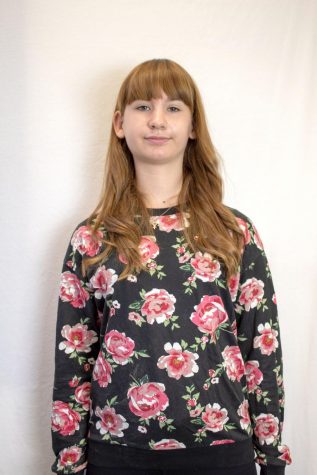 Hadley Norris, Reporter
Hadley loves to do ballet. She also loves writing and hopes to become a journalist when she is older. Her hobbies include baking with her amazing friends,...