Austin Businesses That Are Closing Permanently Due To COVID 19
Businesses all over have been affected hard by the coronavirus because they are not getting the business that they usually receive. Here in Austin, there are several local businesses that have closed due to the pandemic, and they probably won't be the last.
Magnolia Cafe: Lake Austin Blvd. Location
Magnolia Cafe had to close it's Lake Austin Blvd. location permanently. They still have another location, but it is temporarily closed. This diner is known for being open 24/7 and for it's Tex-Mex and breakfast food. Neither location has or will offer take out, the South Congress location will open their doors as soon as they feel it's safest.
Shady Grove
Shady Grove was an iconic Austin restaurant known for its outdoor dining under big trees and for hosting local musicians. The restaurant was founded by the founders of Chuy's Tex-Mex. Shady Grove served all sorts of food from burgers to chicken wings to Tex-Mex. Although restaurants are now allowed to open to 25% capacity, being closed for so long did not put Shady Grove in a position to reopen.
Threadgill's
Threadgill's was another iconic Austin restaurant known for live music and a variety of southern comfort food. Like other restaurants, Threadgill's could not stay in business due to these uncertain times. Famous musicians such as Janis Joplin have performed here.  The restaurant has been a huge part of the Austin culture, and many are sad to see it go.
Lucy's Fried Chicken: Lake Travis Location 
Lucy's Fried Chicken is known for its fried chicken and southern food. One of it's well known locations was the Lake Travis location where you could eat while overlooking the Lake Travis. Now the restaurant is closing that location. According to KXAN, not getting the normal crowd of customers over Spring Break put the location in a hard position, and since it was known for eating while looking over the lake, take out and delivery was not a huge success. 
Vulcan Video
This movie rental store has been a part of Austin since 1985. The store was already having financial difficulties, and the pandemic just made things worse. Vulcan Video was a big part of the Austin film scene and was a part of the community. Vulcan opened at a time when renting movies was popular, and as people started renting movies less and less, Vulcan Video stayed open. Now, after being open so long, the store is closing.
Blue Dahlia Bistro: 11th Street Location
Blue Dahlia Bistro is known for being a European style bistro. Now the 11th street location is closing. The bistro has two other locations, but this one was the original. Like other businesses, Blue Dahlia closed temporarily due to the pandemic, but then had to close permanently. The restaurant will continue to run the other two locations, even if it may only be takeout.
These are just some of the local businesses that have had to close permanently due to Covid 19. Unfortunately, there will probably be more to come.
About the Writer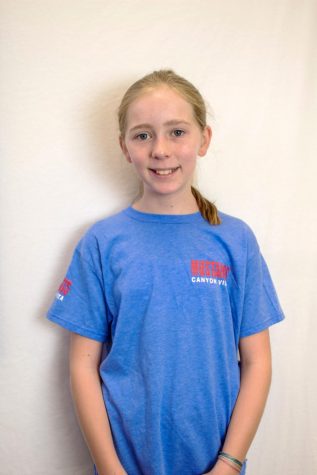 Hannah McDonough, Editor
Hannah McDonough is an eighth-grader here at Canyon Vista. This is her second year in newsmedia and last year, she received a silver medal in UIL for her...