Student's Voice on Cafeteria Food
Canyon Vista has several opinions about the cafeteria food. From those who eat it every day, to those who usually take packed lunches to school, there is no shortage of opinions relating to lunchtime meals at the Canyon. Because of this, I conducted a survey of a little over a 100 students, and this is what I found.
One of the many opinions in Canyon Vista is from Anthony Page (8) who eats cafeteria food almost every single day but still rates it a 1/10.
"It kind of changed, but like I don't eat home food a lot. Like, I bring my lunch only sometimes, and it is my only option," Page said.
Zachary Brown (8) agrees but always brings his own lunch. Brown thinks that the school's food tastes artificial and unnatural.
"The food it [school cafeteria] does have a taste like most food, but the difference between home food and school food is that school food kind of tastes, like, artificial and not natural… and the cafeteria food kind of tastes like plastic, almost. I used to eat cafeteria food and it was good for if you couldn't have lunch, like, brought from home, and I know a lot of people who do actually like the food. I think it's okay, but not the worst," said Brown.
Some people have a less harsh opinion. Deetyaa Shah (8) rated it a 5/10 and eats cafeteria food rarely. Shah thinks more about the nutrition than the taste.
"It's not the most nutritious thing you can eat for lunch and even the things they call nutritious, like the vegetables and the fruit, they are either, like, rotten or they taste really weird. Like, the salad is just like lettuce but the lettuce tastes weird. There aren't really that many good options," Shah said.
Kailani Park (6) gave the highest rating, 9/10, eats it pretty much every day and thinks the food is served cold.
"The food is cold, and when like for some people who come later than usual then the food is not like warm still,but for the people who come early the food is warm," Park said.
Park's favorite food to get is the beef nachos with cheese, lettuce, and salsa. Park eats from home on the days beef nachos are not served.
These are the statistics of the survey: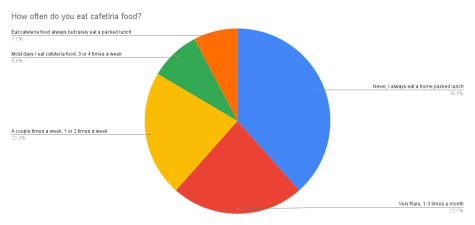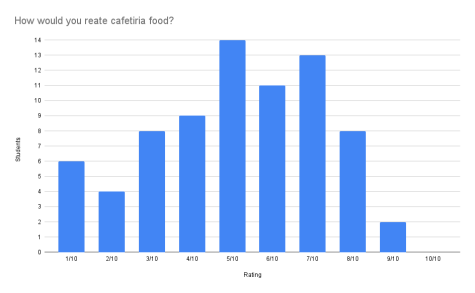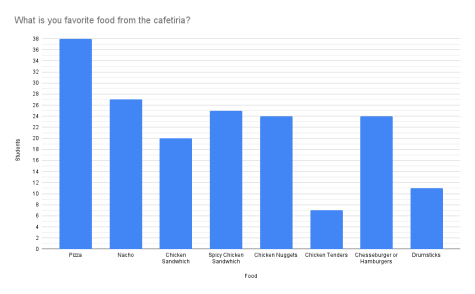 What is your rating on cafeteria food?
Sorry, there was an error loading this poll.