Top 5 Cloth Face Masks of 2020
Face masks are a necessity for 2020.
This year, everyone is experiencing the need to get a mask. Whether you're looking for an addition to your mask collection or if you just want to browse, here are the 5 best face masks of 2020. Enjoy!
FASHIONABLE AND AFFORDABLE
Tory Burch is known for its luxury designer bags but they also offer face masks. Their masks are fashionable with 5 different seasonal prints. The masks have a wire for the nose, adjustable ear straps, and room for a filter. Many reviewers love the comfort and style of these lightweight elegant masks. No profit will be made for the company from the sale of these face masks. In fact, Tory Burch will donate $5 each to the International Medical Corps and the Tory Burch Foundation, which works to support women's empowerment and women entrepreneurs with every sale of the masks.
MOST COMFORTABLE
If you are looking for a comfortable, high quality mask that's a little more on the pricy side, try HaloLife. The masks from HaloLife include one replaceable filter that will work for over 200 hours. The material is made out of moisture wicking bamboo lining and is perfect for longer usage. HaloLife uses antibacterial and hypoallergenic materials for their masks. You can pick from 6 different patterns and 4 sizes. Wearing the HaloMask is said to be very comfortable because it feels like the mask is giving your face a snug hug!
BEST FOR EXERCISING
Athleta has many different options for face masks. You can buy 3 types of masks. One of them is the mask pack called Made to Move. These masks are perfect to wear when exercising. They come in a variety of colors, and you can even match your mask to one of their outfits. The Athleta masks come with an interchangeable head strap to take pressure off of your ears. Soft, elastic binding results in a comfortable fit and ensures that your hair doesn't get tangled. Athleta also offers filter inserts to buy with your mask.
ENVIRONMENTALLY FRIENDLY
The company For Days makes masks with 100% organic cotton jersey material from Turkey. For Days prides itself in being a zero waste company. This means that all of their leftover scraps are recycled into new products, making the masks extremely sustainable and good for the environment. You can get free shipping with every order. There is an option to add a filter into the mask and you can sanitize and reuse the masks. For Days also has a cool option where you can send back your old products to be recycled and you get a new product for a cheaper price.
SUPPORT YOUR LOCAL BUSINESSES 
Support your local businesses! Especially during the pandemic, businesses are suffering. Savilino is an Austin company that offers many masks. They are hand stitched and have many different options. You can even buy protective mask pouches that keep your masks clean and free of germs. There is a teenage size mask which best fits teenagers and small adults, a kids mask, and an adult size mask. Savilino offers a national student discount. If you register with your EDU email address, you get 15% off your order.
Leave a Comment
About the Contributor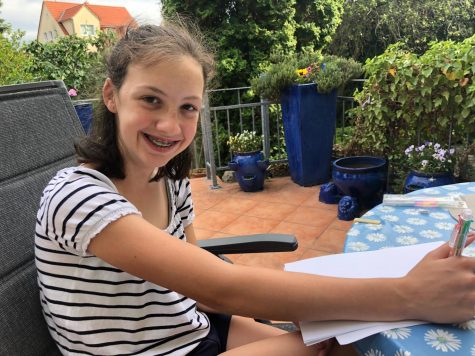 Lena Boas, Editor
Lena Boas loves to play soccer and run track. She enjoys traveling to other countries and learning about different cultures. She also plays piano and is...