Tab For A Cause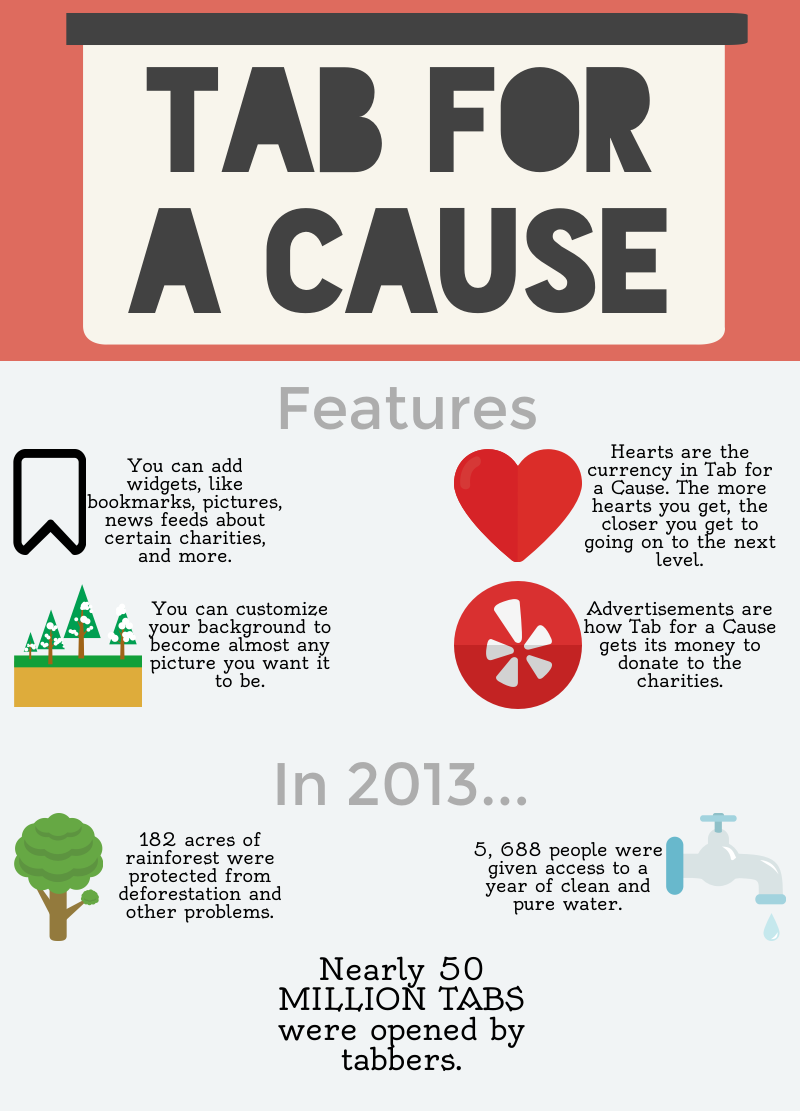 What if there was a way that you could make the world a better place by doing something as simple as pressing a button?
Tab for a Cause is a free and easy-to-use way to donate money to charity. When you install the add-on, for every tab that is opened on Google Chrome or Firefox, a fraction of a cent is given to a cause. Therefore, the more tabs you open, the more money you contribute.
In 2013, Tab for a Cause users opened nearly 50 million tabs. That was enough to provide a year of clean water for 5,688 people and protect 182 acres of rainforest. From January to March this year, Tabbers were able to raise a total of $11,169. Tab for a Cause works with at least 11 different charities, including Water.org, Conservation International, Save the Children, International Peace Institute, and more.
Tab for a Cause has four main features. First, you can add widgets to the tab, like bookmarks, pictures, news feeds about the charities, and so on. There is also a customizable background, with pictures like landscapes, cute owls, and even just one simple color for you to choose from. These two features are completely based on your personal preferences, which allow for flexible and unique layouts.
Next, there are levels, which keep track of how much of an impact you've made. For each tab you open, you get one "Heart", which is the currency of Tab for a Cause. Another way to earn Hearts is to share the add-on with friends. You can then use these Hearts to decide which specific charity you want to donate to. The more tabs you open, the closer you get to leveling up.
Lastly, there are ads. Tab for a Cause gets donation money by using advertisements. There are two display advertisements on the tab pages. Fortunately they're not distracting in any way, and only take up a tiny portion of the screen. These ads raise the money that is donated to designated charities.
Tab for a Cause is a way to do something good for the world by completing a simple and easy task. The impact that thousands of Tabbers have made has raised a whopping total of about $87,000 for charities. If you want to contribute to charities and don't know how, download Tab for a Cause and help the world become a better place!