A Unified Korea
As you may know, North and South Korea have been at odds with each other ever since The Korean War. North Korea has a totalitarian government with a supreme leader, Kim Jong-Un. North Korea has threatened the United States and other countries like Japan many times with their Nuclear Weapons Program. Now, in the 2018 Winter Olympics in Pyeongchang, an argument between the two countries has caused the tensions to get high.
Kim Jong-Un sent his sister, Kim Yo-Jong over to S. Korea for 3 days during the Olympics. She is often seen next to Kim Jong-Un and is seen as an important member of the Kim Dynasty. She was at the Opening Ceremonies of the Olympics along with Vice President Mike Pence.
The North Korean cheerleaders were one of the highlights of the Opening Ceremony, right along with their hilarious reaction to the Kim Jong-Un impersonator that walked past them. They cheered for both the South and North Korean teams as they walked under the same flag that symbolized their unification for the Olympics. This hasn't been the first time the two Koreas united under one flag, although it is a rare moment to witness.
K-pop idol Seohyun, aka Seo Joo-Hyun, from SNSD (Girls Generation), sang with North Korean singers and musicians at the National Theater of S. Korea for an outstanding Winter Olympics concert. Additionally, the South Korean media went gaga over a North Korean star and politician Hyon Song-Wol when she arrived in South Korea.
The animosity between the Koreas could've gotten worse during the Olympics this year, but everybody is relieved to see the pressure getting lighter. Many people were heart-warmed and happy after hearing about South and North Korea uniting under one flag for the Olympics. The act was described as 'emotional' and 'special' by viewers, and we hope this isn't the last time the two Koreas unite. This means the relationship between North and South Korea has become a little more civil than we thought it was.
Leave a Comment
About the Contributors
Vishnu Sreenivasan, Chief Producer and Editor
Vishnu is an 8th-grade student with many interests. He loves to play tennis and to watch Netflix. He is known by his friends and family for his vast and...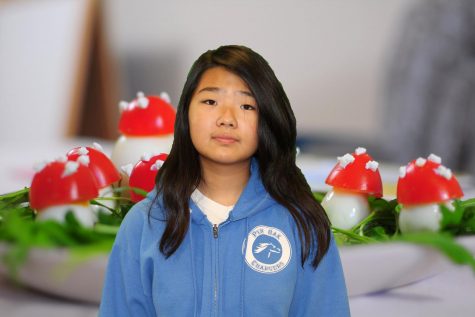 Erith Won, Reporter
Erith is an avid, enthusiastic eighth grader who lives on K-pop and Manga and loves to watch hilariously nonsensical movies. She spends her days listening...