Alexa and Katie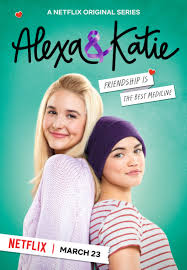 Alexa and Katie is a 2018 television sitcom created by Heather Wordam. The show stars Paris Berelc and Isabel May as its protagonists. The show is brand new on Netflix, and is 13 episodes long.
The show is about Alexa, an eighth grader who can't wait to go to high school, but she can't have all the fun because she suffers from leukemia. Throughout the journey, she's had her best friend and neighbor, Katie, on her side. Alexa undergoes cancer treatment, but is allowed back into school but with a lot of restrictions. She keeps her outgoing personality and enthusiasm for life despite her health issues, thanks to Katie. The girls are always by each other's side and go through everything together. Something that I liked about the show was that Alexa and Katie focuses on the ups and downs of being a teenager with cancer, and how tough it can be like. In the show, Alexa repeatedly says that she wants people to see "her,"  and not her cancer. In fact, she even gets frustrated along the way when people are extra nice to her because she has cancer. They also show the true meaning of friendship, and what someone sacrifices for their loved ones.
The show is rated TV-7, so pretty much everyone can watch it. Coming from someone who watched the entire season, I found it a little cheesy and overdramatic. The show was very "Disney-like" and didn't seem like it was produced by Netflix. Still though, it'sa good show to binge-watch if you're ever bored, but it's not the best I've seen. If you do like how it sounds, the whole season is on Netflix to watch. 
About the Writer
Ruth Martin, Reporter
Ruth is an all around good person. She has been swimming since she was eight and loves drawing. She likes photography and writes a lot. She enjoys travelling...