Q&A With Promise Salinas
Hang on for a minute...we're trying to find some more stories you might like.
Soccer is a very popular sport among students and adults. It is one of the most played club sports. Here is an interview with a CVMS soccer team member, Promise Salinas.
Q: How long have you played soccer?
A: I have played soccer for ten very passionate and hard years.
Q: What position do you play?
A: I play defense and midfield.
Q: What is your favorite part of soccer?
A: My favorite part is winning the game and cheering for my teammates.
Q: What is your least favorite part of soccer?
A: My least favorite part is losing the game.
Q: What do you think is more important in soccer: athletics or teamwork? Why?
A: I think teamwork is more important, because if you can't work as a team, you can't win.
Q: Do you play soccer year-round or soccer season only?
A: I play year-round both indoors and outdoors for many different clubs.
Q: How often do you practice?
A: I practice two to three times a week for club soccer and four times a week for CVMS soccer.
Q: What is your favorite trick?
A: My favorite trick is the Maradona one because you have to turn in a 360-degree circle and it also takes a lot of practice to be able to do it.
Q: What is your favorite professional soccer team?
A: My favorite team is Manchester United because they are very good and they are from England.
Q: Do you plan on playing soccer in high school?
A: Yes I do. I want to play for Westwood when I go to high school.
About the Writer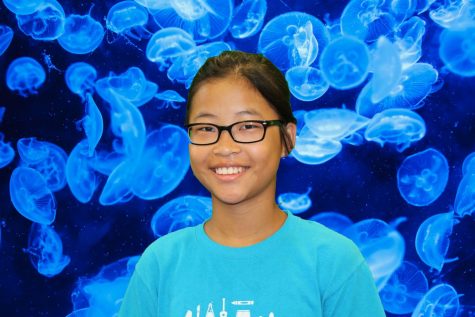 Ariel Sun, Reporter
Ariel was born in Florida, but moved to Austin at age two. She loves to read, especially the Land of Stories series. Speaking of books, Ariel enjoys Language...