How Honors Choir Prepares for the Fall Concert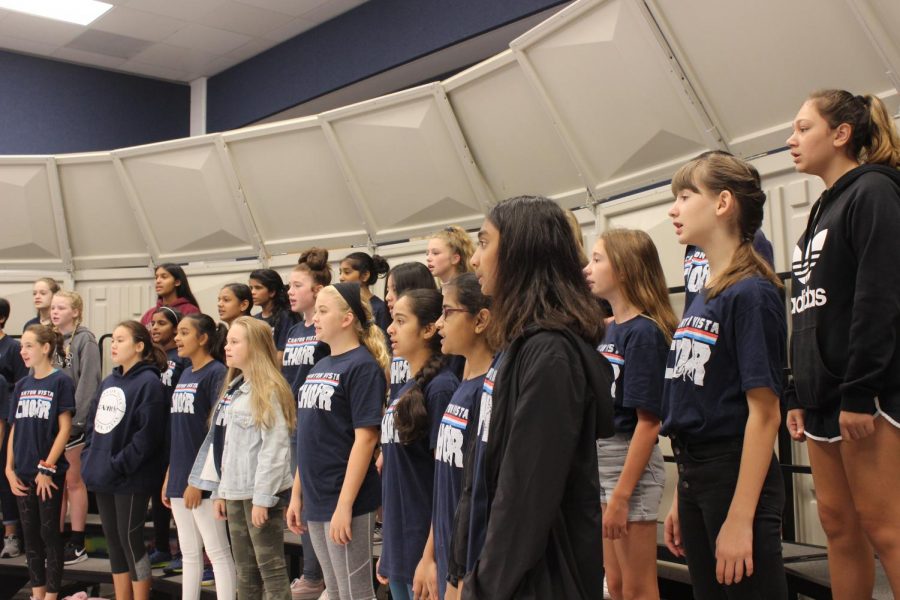 Charlotte Blackmon, Reporter
October 12, 2018
The Choir Concert is Friday, Oct. 12, and the girls in Honors Choir have been preparing for the big day since school began. Raul Vara, choir director, chose four pieces in total for the girls to learn, of which only two will be performed. Three of these four pieces were acapella.
If you don't know, the Honors Choir is an auditioned group of varsity girls. These seventh and eighth graders have to be good at sightreading and have a good voice to contribute to the choir. This is the only choir that will be singing acapella songs at the Fall Concert.
The two songs that the Honors Choir will be singing for the Fall Concert are 'Sanctus' and 'Now My Heart'. Sanctus is a pretty, slow, lyrical piece that starts with a small group singing the 'chant', a prolonged measure of music meant to be sung by a small group or as a solo. The Honors girls auditioned for the chant, some as solos and some as trios. Two trios were chosen to sing together at the concert. Now My Heart is a faster-paced, lighthearted song. Mr. Vara has spent a lot of time with the Honors girls on this song. He wants the song to be full of energy.
To prepare the songs, the girls break into groups (triple trios) to practice the songs, and to figure out where they're messing up. It can sometimes be nervewracking to perform for the class with only two other people in your section, but the end result speaks for itself.
The Honors Choir is the most advanced choir in the program, and are sure to be one of the many highlights of the Fall Concert. The concert will be Oct. 12 at 7:00 at St Andrews Presbyterian Church. Come out and support the Canyon Vista choir program!