Veterans Day Assembly
Veterans Day
November 11th, a day that the major combat when World War 1 ended. In 1938, November 11th was now a legal holiday and known as Armistice Day. This day was first celebrated in 1947 as a national holiday. This day was claimed this by the current president in 1938, President Woodrow Wilson. Wilson was the 28th president. President Thomas Woodrow Wilson was an American statesman, lawyer, and academic. He was in the Democratic party, served for president of Princeton University, and was the 34th governor of New Jersey all before he won the presidential election and served as the president from 1913 to 1921.
World War 1
World War 1 was a scary time. World War 1, also known as the First World War, The Great War, this was a Global War starting in Europe that lasted from the 28th of July 1914 until November 11th that same year. The battle of World War 1 started when there was an explosion on a battlefield in France. World War 1 journalists risked their lives trying to report on the Great War. There were, on average, 12 million letters delivered to the front line every single week! The youngest British soldier who served was only 12 years old. Did you know, plastic surgery was invented because of World War 1?
What's so special about Armistice Day?
You may be wondering, "what is so special about Armistice Day?" Armistice Day is a day to commemorate the around 8.5 million soldiers fighting in World War 1. " I have such pride in my family and want to carry on the tradition of fighting in the military. I am so glad that there is a day just devoted to veterans."(Brook Valentine 7) Did you know 16.1 million living veterans served during at least one world war, 5.2 million veterans served in peacetime, 2 million veterans are women, 7 million veterans served during the Vietnam war, 5.5 million veterans served during Parisian gulf war, there were around 21.8 million veterans in the United States as of 2010, and finally, did you know poppies are the national flower symbolizing the veterans who serve or served for our country. Especially the ones who passed while serving.
The Veterans Day assembly
First, it started with the color guard. They came out, and one of the leading color guard performers led the performers and marched while the leading performers instructed the other color guard as they walked to put the American flag and the Texas flag in the pole stand. There were about three students who stood up first. They announced lines from the Texas independence poem, and many other theater students stood up to join them all around the gym. When they finished, the choir students went on the gym floor and also sung about Texas independence as well. It was a very high pitch and pretty performance. Next, the honor orchestra students played a beautiful piece with a mix of high and low notes representing the times of war. Finally, the honor band students performed Taps. Taps is a song that was played at a veteran's funeral. They also played the United States armed medley songs while each veteran stood up proudly, and everyone in the audience clapped. " Think it was a beautiful assembly and I think that my grandpa was very grateful because he felt very appreciated. I also think that I can understand how hard it would be to be a veteran because my grandpa tells me many stories " (Lauren McLain 7).
Leave a Comment
About the Contributor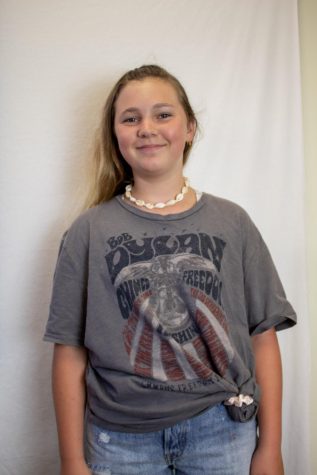 Katie Flannagan, Reporter
Katie was born in Austin, Texas and she has lived here for about eight years. When she was 2 years old, she lived in London, England. She then moved with...