The Choir Community's Vertical Concert
The Vertical concert, held on November 8th, was an important event for all grades including the elementary kids who participated. It was high school, middle school, and elementary students learning songs that they all performed together. The event happened on Nov.7 and even though it was just a part of what choirs learned each year it was a good chance for younger kids interested in being in the choir to understand the opportunities beyond 5th grade. The last song, Baba Yetu, was a really cool song to sing altogether and a perfect way to end the concert. Grisham girls and CVMS girls sang Night Winds which was written by Laura Farnell. The boys sang Viva L'Amour and Hard Times. The girl's combined song was Never One Thing which they sang with the Westwood girls and Grisham. To better understand the topic, we talked to the CVMS Honor girls for their experiences and opinions on the concert.
How did you think you did?
"It was good but stressful, there was a lot of people there!"-Molly Harvey (8)
"I really liked how singing united everyone. it was really fun to sing with all my friends."-Maggie Lu (8)
"I thought it went really well, I loved what we sounded like altogether onstage."-Elise Trenk (8)
Did you like singing with so many people on stage?
"Yes because it sounded really cool, but no because it was a lot of people and bodies to organize."-Molly Harvey (8)
"It was a really interesting experience because  it was so different from a normal concert like the Fall concert."-Elise Trenk (8)
"It was a little hectic, it taught me a lot about what to expect in High school."-Abby Winkleman (8)
What was your favorite part of the concert?
"Getting to see the previous honor choir girls from last year!"-Molly Harvey (8)
"Being able to hear the High schoolers from Westwood because it was so beautiful. I loved being in that atmosphere."-Elise Trenk (8)
"Getting to be with everyone on stage!"-Sydney Safarik (8)
What was your favorite song from the concert?
" Night Winds, because it was so pretty and had the best piano part to the piece."-Rachel Yang (8)
"Baba Yetu, because everyone got to sing together and the little kids were so cute!"-Saachi Coulekar (8)
"Never One Thing, it didn't have the piano but it had drums. It was really cool and very beautiful."-Nikki Bhamidpati (8)
How was it backstage?
"Nobody knew what to do… we had to improvise."-Molly Harvey (8)
"It was crazy because everyone was trying to get into performance mode."-Sydney Safarik (8)
Do you feel like there should be more opportunities to sing with elementary and high school kids?
"Yes, so the students can get more of an idea of what it is like to be in choir in the years to come and what you could sound like and experience in the schools they will be attending in a few short years!"-Molly Harvey (8)
"Yes that would be really fun!"-Rachel Yang (8)
What would you change for next year?
"For it to be more organized, and to work on the pieces that we would perform sooner and longer so they reach their full potential."-Molly Harvey (8)
"Definitely doing more of these in the future, I loved bonding with everyone."-Sydney Safarik (8)
Anything else?
"It was a great experience to see and sing with everyone!"-Molly Harvey (8)
"It was different than anything else I'd ever done before since I'm new to choir. I loved it."-Sydney Safarik (8)
Overall a perfect way to unite choirs and give the audience a chance to hear beautiful music. At the end of the concert, choir directors received a flower and applause for their work with the students and the hard work of putting it all together. Good job, choir! Please go to the next choir concert to support the students on Dec.16.
Leave a Comment
About the Contributor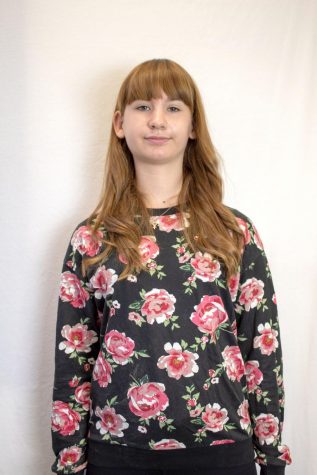 Hadley Norris, Reporter
Hadley loves to do ballet. She also loves writing and hopes to become a journalist when she is older. Her hobbies include baking with her amazing friends,...