Whats Wrong with Pop Music?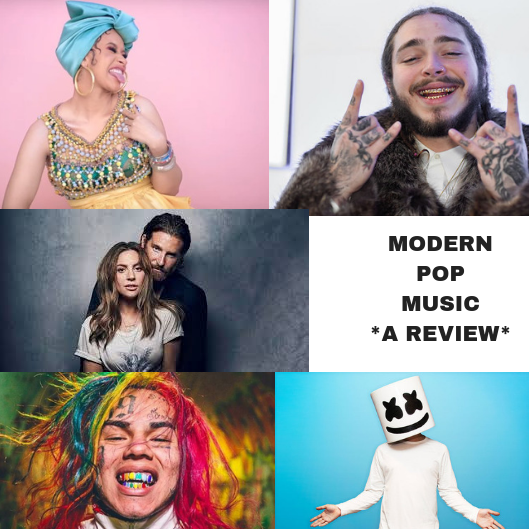 In the early to mid 2010s , pop music was everywhere. Katy Perry and other big names ruled the world of music. And although most of that music was vapid and uncomplicated, they were at least notable. You heard these songs, and you could tell people truly loved these songs, even if you yourself did not. But now? Pop music seems to be in a state of disrepair.
When I tune into the radio, I never hear the songs on the Billboard Top 10 chart. It's all songs from two years ago. In an age where streaming albums and trap music rules the world, we have no time for the hit singles of old. Pop music is dead, and the Top 10 right now shows that. I'll be looking at each song on the list at this time of writing. (10/18/18)
1. "Girls Like You" by Maroon 5 & Cardi B
At #1 on the charts is this collaboration between pop band Maroon 5 and female rapper Cardi B. Maroon 5 has had a string of hits since their first album, and just when you think this will be the year that they fail, they come back. Unfortunately.
Lead singer Adam Levine's squeaky Muppet voice grates my nerves, and his "band members" dont even do anything. The instrumental is a mellow acoustic guitar and a light synth that barely has any punch. Ah, I remember when they released solid pop music such as "This Love" and the other band members actually did something. Those were the days. This song features Cardi B as well, who is extremely popular right now, and its probably because of her that this song is popular. Her verse is decent, but there's really nothing of note. So does anyone actually like this song, or is it just that it's there? It's not catchy, its very boring, and the instrumental is incredibly bland, and I have a feeling the only reason this rotten oatmeal of a song is popular is because of Cardi's verse.
2. "Lucid Dreams" by Juice WRLD
The prevailing trend in music now seems to be trap music and so-called emo rap. I don't really care for either of them, but I do like the instrumentals in some of the emo-rap songs. Case in point, the second most popular song in the world now (at least according to the Billboard chart) which uses a cool sounding guitar riff from an old Sting song. It fits well in the song, but what brings me down about this song is Juice WRLD's (what a name) whiny singing. It's very annoying and ruins what could have been a rather interesting song.
3. "Better Now" by Post Malone
Another mopey song in the top 10, I find Better Now to be about equal to Lucid Dreams in terms of quality. Post Malone's voice is much better than Juice WRLD's auto-tuned whining, but the instrumental is very homogeneous and boring. The lyrics are interesting, and at least its got a melody. But this song just gets on my nerves, and I can't decide why.
4. "Drip Too Hard" by Lil Baby & Gunna
I can't stand this song. It's so tuneless and the guys voice is incredibly annoying. I don't really have anything to say about this song.
5. "Shallow" by Lady Gaga & Bradley Cooper
From the soundtrack to "A Star Is Born," this collaboration featuring Lady Gaga and actor Bradley Cooper is a bit of a callback to 80s power ballads, at least in my ears. And it is nice to hear electric guitars on the radio again, but unfortunately the part of the song with those crunching solos is very short. If the whole song had been like that, I would have proffered it. Also, Bradley Cooper's voice is a bit weird.
6. "Sicko Mode" by Travis Scott
This at first seems like a generic trap song, but it has some interesting elements and is at least experimental. But there's really no substance here and it feels like a bunch of separate songs tacked together.
7. "Youngblood" by 5 Seconds of Summer
A nice bassline, but that's all this song does for me, and at least the guy's voice is natural and doesn't sound processed. Was this song made exclusively for car commercials?
8. "Happier" by Marshmello & Bastille
Didn't expect to see these guys again. Bastille had a huge hit a few years ago with "Pompeii" and have made a bit of a comeback with this collaboration with producer Marshmello. Like I said about these other songs, it just feels so uninspired, with the annoying synth line and bland lyrics. And like Bastille's other songs, the lead singers voice is a major case of over-singing.
9. "I Like It Like That" by Cardi B, Bad Bunny, & J Balvin
Latin music has been very popular in recent months, spurred by the incredibly popular "Despacito." So it's unsurprising that another hit in this vein has taken over the charts. And it actually has lyrics in Spanish. It's great that we're becoming more open to foreign languages in our music, and it's built on an addicting instrumental based on a cool vintage sample. This song is, of course, featuring Cardi B, who currently has two hits in the top 10 (as we saw at #1) but I think this song is much better than "Girls Like You." It's pretty infectious, but actually, the biggest problem is Cardi herself. Her verse stretches too far to get rhymes, and a lot of it feels forced. But the beat is good, and while it's not the greatest pop song ever, it's got enough style to be a standout.
10. "Fefe" by 6ix9ine feat. Nicki Minaj & Murda Beatz
I detest everything about 6ix9ine, who is currently very popular. His idiotic look. His stupid name. His lack of talent. And of course, all the awful things he has done. You see, 6ix9ine is controversial with his behavior, (if your wondering what he did, look it up) and he makes this no secret in the song AND video, filling both with childish symbols and using nursery rhymes for a few of the verses. But even without those awful things, this song is still terrible. Just a bored sounding, hard to listen to, extremely questionable song that doesn't deserve to be on the charts at all.
So that's a rundown of the pop chart as this week. And as you can tell, all of it is pretty bad. These songs truly show that pop music as a whole is becoming obsolete, with all of these tracks being downbeat and bland, about tired old topics and with bored vocalists. With the exception of "I Like It" and "Shallow" (neither of which are truly good songs, mind you) all the songs presented here are forgettable or terrible in some way.
About the Contributor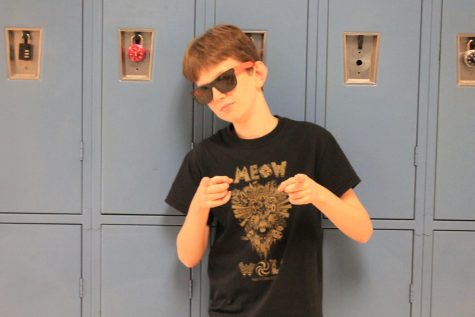 Oliver Barnfield, Cool Guy/Entertainment Editor
Oliver is a Canyon Echoes veteran who currently works as Entertainment Editor, and he also directs and stars in The Opinionist, Canyon Echoes 1st video...