Why The Movie "Ocean's 8" is Probably the Best Crime Movie
I think crime movies are amazing. They are so interesting and always have a great plot. Recently "Ocean's 8" came out in June, which was a spin-off of "Ocean's 11" and "Ocean's 12." 
The opening scene starts with Debby Ocean (Sandra Bullock) in jail (we'll get to that) saying what she would do if she were to be released. She says she just wants the "simple life" but we'll see about that. She is released and heads for New York City.
The next scene is my favorite because it is such a jaw-dropping scene. I think I also forgot to mention that the cast is all women and I just love it. Anyway, she shoplifts a lot of things and somehow steals a hotel room. Ok, I have no idea how she would even be able to do that. Probably with years of experience but whoa. She talks to her friend and tells her her plan. She wants to steal a necklace. Her friend is positive she can't do it but Debby says she has thought about it for a long time in prison. Which is very true but also surprising.
She goes to see an old friend I'm guessing and I think you get a little hint about why she was in prison and I think it was a crucial small hint. They were gonna steal a very expensive necklace called the Toussaint. It was buried 50 feet underground but they were gonna steal it from someone at the Annual Met Gala. I'm thinking this can not be possible but everything is possible in movies. You also feel suspense cause you're wondering how could they possibly pull this off. Apparently, all they needed were seven people and $20,000.
Personally, I think it's the best cast I 've ever seen. They discuss the game plan and just like that they're off. **SPOILER ALERT!** 
When the Met Gala comes around they end pulling it off!! Everyone in the theatre is standing up. I was so surprised that they didn't get caught. In the end, all was good and well. I was astonished walking out of the theatre.  I really did like the movie and I hope you did too.
About the Writer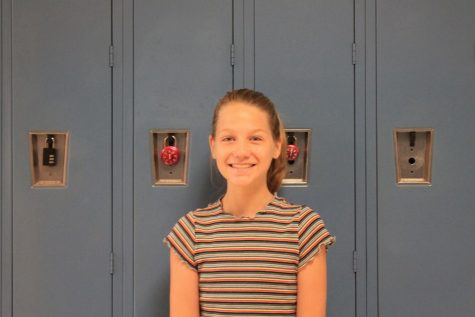 Emma Ross, Reporter
Emma is a 7th grader here at Canyon Vista. She enjoys hanging out with friends, staying active, and binge watching her favorite show Parks and Recreation...