Everything Right and Wrong With Airpods
Hang on for a minute...we're trying to find some more stories you might like.
What has made Airpods worth buying? My initial reaction upon first seeing them was a pair of earbuds that can easily fall right off, regretting that you spent a good $160. "Why does everyone have a pair of Airpods?" Exactly. What has made these tiny pairs of earbuds worth buying? Only if you knew the facts, then you can understand why in the world everyone has a pair.
When Apple first came out with the first-gen of Airpods in 2016, it was a huge hit. But Why?
Unless you've been living under a rock, then you should know that it's Bluetooth. With these magical pairs of earbuds, you don't have to press a button to pair them up. Just pop up the case and they pair up with your device. If you've ever tried Bluetooth headphones, then you know that's pretty neat. There's no need to press a button and wait for them to pair up with your phone. Just open the case, and there you go.
They charge in my pocket. Yes, that's right, they'll even charge in your pocket. Whenever the Airpods are sitting inside of your case, they charge. They have about five hours of battery life. But that's not including the hours when you have in your case. Just leave the Airpods in the case for fifteen minutes, and you just gained about two hours of battery life.
In terms of quality, there isn't a lot about them, other than they more bass, and the music and voices are both very crisp and clear. You could have one in your ear and the other in the case, so you can hear what's around you listening to your music. That's like basically saying that you can take regular earbuds, and only wear one of them. Genius, right?
Some great things about the case itself are that whenever you pull out you Airpods, an LED light will indicate how much battery life is left. Green indicating full charge, and orange indicating low battery life. Another great thing about the case is that there are respective slots in which the Airpods are magnetically held into the container, so that if the case lid opens by itself, then it won't fall out.
But let's discuss everything wrong about them.
If they don't have a wire connecting to them, what's the point of the stem at the bottom. It looks like someone cut the wires off, and added a touch of chrome at the bottom.
The fact that the Airpods need to charge is just wrong. What's the point of having Airpods if you can't use them all the time. Now with regular earbuds, then you don't even need to charge them at all. There should be a cable connecting the Airpods to the phone, so you can listen to them, while they charge, and use them in a wired mode.
Trust me, you will never lose your Airpods…or you might. I think Apple should have come up with a way where you can take off the wires on the Airpods, and connect them back on, so this way, if you don't trust yourself, then you can use it in a wired mode… Genius.
No matter how many issues there are with Airpods, everyone will buy them anyways.
About the Writer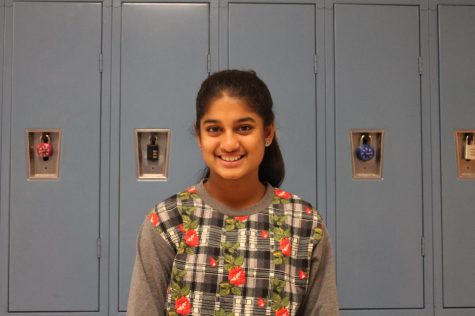 Janani Sivakumar, Reporter
Janani is a new student at Canyon Vista. She moved from California and loved living there. She loves playing sports. She plays volleyball and tennis. Janani...