Huion 1409 Graphics Tablet review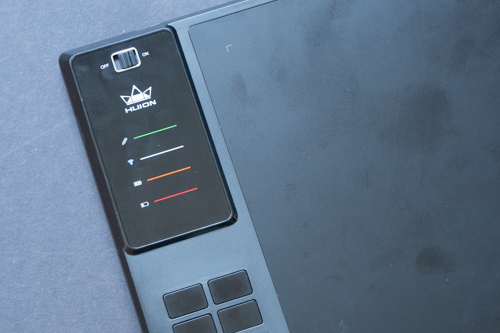 Intro
I had been looking for a drawing/graphics tablet for a while, but all of the reliable brands like Wacom are all very expensive and affordable. So this Christmas, I was looking for a cheaper alternative and found Huion. The company has been rivaling Wacom recently with its cheap but effective screen and graphics tablets. I picked out the WH- 1409 model, as it has a large working area, 12 keys on the tablet, and 2 buttons on a rechargeable pen. I spent some of my savings and after a couple of days, the tablet was at my door.
In the Box
When you open the nice box it comes in you get this list of items:
Graphics Tablet WH1409- The tablet itself
Digital Pen PE150- A comfortable and light model of pen
Wireless Receiver- In USB form attached to the back of the tablet, makes Bluetooth possible
Micro USB Cable- To charge the tablet or to use without Bluetooth
Pen Charging Cable- to charge the pen
Pen Holder- A place to put your pen on your desk, also holds spare nibs
Pen Nibs x 8- Nibs wear down over time, these should be more than enough
Quick Start Guide – instructions
When I opened the box, the tablet was smooth and had protective layers around it. There were slots for all of the other supplies, and nothing was damaged in shipping.
Specs
| | |
| --- | --- |
| Technology | Electromagnetic Digitizer |
| | |
| --- | --- |
| Resolution | 5080 LPI(Line Per Inch) |
| | |
| --- | --- |
| Interface Support | USB Wireless 2.4 GHz/EF |
| | |
| --- | --- |
| OS Support | Win 10/Windows 8/Win7/Mac OS 10.8.0 or above |
* You can find more here
Setup
Drawing tablets used to come with disks for drivers, but Huion has moved on to storing the driver in the USB stick that also works for Bluetooth. However, Huion has a problem with not putting the up-to-date drivers in the USB sticks. Luckily, if you find your tablet not working, you can easily download the correct driver from Huion's website. The ones on the website are always up to date. I downloaded the drivers, accepted the Terms and Conditions, and then quickly restarted my PC to get the tablet working. Everything came fully charged, which was nice. The driver has a dandy desktop shortcut, so you can adjust settings easily without looking through your files. The menu has a spot to set up different keyboard shortcuts and buttons for the hotkeys, as well as adjust how sensitive your pen is. The setup was an easy experience and worked fine.
Troubleshooting
The tablet is not perfect, however, and I did have a couple of problems. I found that after about 2 weeks, the Wireless function stopped working, and my cursor wouldn't work with my tablet, only with my mouse. I switched to using the wires, and that worked for a while. I have not tried wireless since, but it's not really a problem for me since my PC is under my desk and wires reach easily. I didn't buy the tablet for its wireless capabilities, but if you did I would think twice. However, Huion has amazing customer service, and they replace things easily if you provide proof that it doesn't work. I have watched other people, and nobody else has had this problem, so it must be unique to me. Also, I found that I can't have my tablet not plugged in and then plug it in and have it work. I have to turn off my computer, plug it in, and then turn it back on for it to work. Although these problems may seem annoying, they aren't that bad and I've found that they don't really affect how the tablet performs or how much I like it.
Performance
One of the things I love about this tablet is how it works. It has 8192 levels of pressure sensitivity, which makes it able to detect the softest and lightest lines. The tablet is large and you can match its working area to the dimensions of your monitor or laptop screen. It feels smooth to draw on, but not glassy and hard. It is really easy to get used to using. Since I had used an old small Wacom before this, I could easily use this one right off the bat, but if you have never used a graphics tablet before, it will take you some work to get used to. The express keys on the tablet are nice and convenient to use, and the tablet can be flipped if you are left-handed. Once I started working, I got into a steady workflow easily and adjusted my buttons to where I like them. I set my pen to have Ctrl- z and buttons on my tablet to have transform (button), deselect, eraser and pen, and switch to vector mode.
Accessories
Pen- The pen is really comfortable in my hand and easy to use. The buttons are easy to click, and it charges quickly. The tablet comes with 8 extra nibs, but I have been using mine consistently for 5 months, and my nib has barely worn down. I probably won't have to replace my nib at all for another half of a year, and 8 extra nibs will last me a long time.
Wireless receiver– Although I can't use this for wireless connection now, when I could it worked fairly well. The USB had a slot on the back of the tablet so you won't lose it when you aren't using it. The USB also has extra memory on it, specifically, so you can have extra storage to store art or other files. However, this USB can get a bit hot when you've been using it a lot, so be careful about that.
Cables- The cables are classic cables, and there isn't much special about them. The micro USB cable is a bit hard to plug into the tablet, but they work fine.
Overview
In conclusion, I think that if you are looking for a cheap(er) tablet to work with, I would highly recommend this one. Huion is a brand that is just getting on their feet, though, so I would be prepared for a few small issues. However, these tablets work amazingly well, and for 200$ cheaper than Wacom Tablets. If you are considering buying a tablet, give this one a look!