Pokemon On the Go! – The Mobile Pokemon Games
For the past three years, Pokemon has been exploring the field of games that can be played not only on Nintendo devices, but our tablets, Ipads, laptops, and phones. This has made their games more accessible to the public that can't or doesn't want to buy a console and their games as well as affordable and pretty portable. I played all of these games on my tablet and loved them like I loved Let's Go Eevee and Pokemon: Sword. The mobile apps also feature fun Pokemon models and new concepts like Sync Pairs and having one main Pokemon that has one goal. I chose to talk about the Pokemon games that aren't only for younger kids, but also adults.
Pokemon Shuffle
Toon Blast, Candy Crush, and Best Friends are all hit puzzle games, and people love making more versions of them with their boosts and characters, and Pokemon decided to do the same. In this game, you can catch your favorite Pokemon, "battle" with them, and even mega-evolve your Pokemon partners. This game is probably based on the game, Puzzles, and Dragons since this game has two forces opposing and reducing each other's health, but a brighter and happier version. The game has many different places in it with various Pokemon and Bosses in each of them, and if you're not satisfied with that, there are events in the game to catch legendaries and such, but it's very tricky to do so.
This game is not my taste, but it's worth giving a shot if you like the other non-Pokemon games listed or like games just like those.
Pokemon Quest
Pokemon Quest is the most unique of the games (which you can also play on your Nintendo Switch) featuring block-shaped Pokemon of all of the first-generation Pokemon. The game is a calm, strategic game with a lot of islands for you to explore and many island bosses to defeat. You can also make different curries to attract new Pokemon for your team or to complete your curry dex.
I haven't finished this game either, but it's enjoyable, and it's a game that will be on my Switch if I ever want a change of games.
Pokemon Rumble Rush
Hmmm… well, this game is something. I can't say I like it, but it is worth a try.
This game is also a game with funky Pokemon models, as well as different mechanics in it. You can have one Pokemon of your choice as you go to different islands and battle the bosses there. This game is pretty much like Pokemon Quest but of course, in some ways different. This game is pretty fast and is suitable for playing in your free time.
I don't know why I dislike this game, but you should still try it out. It's not that bad, and it does have a good concept in it.
Magikarp Jump
A game made to turn Tragikarp into Magikarp, what we all need in our lives. If I were to choose favorites, this game would be it. This game is only just training a Magikarp to be a fantastic and skilled jumper. You can collect a lot of different Magikarp in the game and even get a Gyrados or Dratini or spot feebas or a shiny corsola or lovedisc when you get a unique cut scene. You have multiple leagues to compete in to prove your Magikarp(s) to be on number one, and to finish them all is the goal.
Anyway, this is an adorable little game that is pretty light-hearted and not that strategic — just a simple, laid-back game.
Pokemon Masters
Now here's a game you need to but your brain to. Pokemon Masters is a pretty cool game in an artificial island with some popular Pokemon and trainer duos from the Pokemon animes called Sync Pairs. You can have three Sync Pairs when in a battle and even evolve the Sync Pair Pokemon when they hit a certain level. You need to raise your Battle Power(BP) to become stronger and be able to defeat every pair in the game.
I haven't finished Pokemon Masters yet, but its a pretty great game to play whenever you're bored. A cool on-the-go aspect is that if you are in a cut scene and you have to close the game out when the scene occurs, it saves your progress in that scene, which is pretty helpful when you're on the move and play the game.
Pokemon GO
Here's a game a lot of features, maybe too many. First, you can make friends, battle them, give them gifts, trade pokemon, the closer you are to your friends, get you better benefits. If you don't have anything better to do, then you can do field research. You can fight cool Pokemon in raids with your friends and get shinies, and many more incredible features. The game has frequent monthly events like a community day, which happens every month for 3-4 hours; in December, all the months get recapped into two days if you missed or want more of a featured Pokemon.
This game does mean that you have to move to progress in the game unless if you are frequently in a convenient location. This game has a massive following with just three million people on Twitter, and people regularly join Discords or get and app for GO players. Just be careful about where you're going.
Those are all of the Pokemon mobile games that aren't for pre-schoolers, I liked playing through all of the games being a gamer and a pokemon-fan. If you know any other free laid-back mobile games that I should review, you can comment on them in the comment area. Do remember that all the apps are free but have some in-app purchases. You don't need to be a Pokemon expert in playing these games, just as long as you like them, that's all there is to it.
Leave a Comment
About the Contributor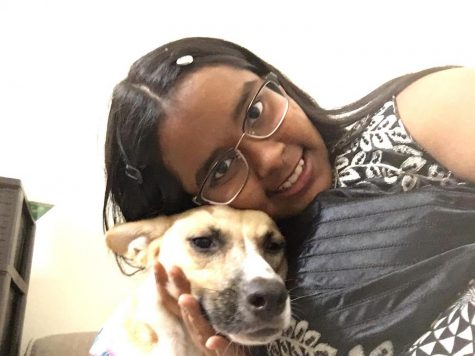 Shristi Dayal, Reporter
Shristi loves everything music, dog, and anime related. An ideal day for her would be to go to an arcade and listen to music.