Canyon Echoes Book Club: "The Sky is Everywhere"
Canyon Echoes staff has started a new book club to recommend books to students that are available in the CVMS library for check out. If you haven't seen my article about Letters to the Lost and One of Us is Lying, check it out, but this article is about The Sky is Everywhere. It is written by Jandy Nelson and is just as good as I'll Give You the Sun. First, I will talk about what it is about, then what I liked. I will be careful not to spoil anything from one of my favorite books of all time. 
Summary
After her sister dies, Lennie Walker is heartbroken. Caught between her old life and her new, she is learning to step out of her sister's shadow. As the story pieces together the before of her older sister's death, Lennie is struggling, she finds herself in love for the first time with a boy who shares her love of music, the new boy from France. Toby, her sister's former boyfriend, is in the same pain that she is. When they are talking, it feels like Bailey is right there beside them. Through all the pain and secrets, she has to decide if she wants to remember or forget. Although Lennie pushes her friends and what she has left of her family away, she finds herself learning how to be happy with all that she has lost.  She makes some mistakes along the way that bring her closer to who she is, and her feelings for Joe makes everything easier. Len goes on to discover that maybe she's done hiding in her sister's shadow, and is ready to have her voice even though she hasn't fully let her sister go. She goes on a journey to find herself and forgiveness in her poems and music.
What I liked
I loved the family structure in this book. There wasn't a mom and dad, but there was a grandmother and uncle. This is not a reasonable way to be raised, but it added it to her character. I think that this book is so important to read because it is so well written, and the characters are all so unique. I liked how Lennie shifted and changed in how she grieved, and her best friend was so amazing. There is some humor in the book that makes it such a fun read. This book is so unique because Lennie writes poetry and then leaves them around her favorite places. Her poems are beautiful, but not only that, the author writes this as one flowy piece and even includes where these were left. Her writing helps you understand not only her story but her sister's story as well. You piece together why she does what she does, and you even come to love her even when she messes up. I found myself enjoying her sister, too, even though she was gone. In this book, you cry several times, just a warning. I like that it isn't a cheesy romance, Joe and Lennie are my favorite romance out of all the books I've read. I love that she finds herself through her grief and selfish actions. And that it focuses as much on the dark as with the light. I've read this book 1,000,000,000,000 times, and I will keep reading it again and again because I find myself learning something new every time.
Leave a Comment
About the Contributor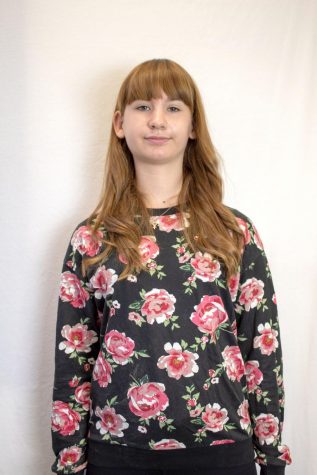 Hadley Norris, Reporter
Hadley loves to do ballet. She also loves writing and hopes to become a journalist when she is older. Her hobbies include baking with her amazing friends,...