Dorothy Must Die by Danielle Paige: BOOK REVIEW
How does this fast-paced, darkly magical fractured fairy tale stack up against others of its genre?
Fractured and modernized fairy tales are the talk of Goodreads, Kirkus Reviews, and any young adult reader's bookshelf. Marissa Meyer's Lunar Chronicles took the Sci-Fi world by storm a few years ago, and the Land of Stories by Chris Colfer hit the middle-grade market hard. But as big-name series like these get the starred reviews and New York Times bestseller lists, smaller, lesser-known series like Dorothy Must Die by Danielle Paige slip through the cracks. Having read all three of these series, I've determined what makes Dorothy Must Die such an enjoyable, action-packed series that is simply un-put-down-able.
The story takes place after the Wizard of Oz. Dorothy's gone back to Kansas, however, when she realizes the dull, dusty land she grew up in doesn't fit her anymore, she returns. She learns magic, growing hungrier for power each and every day. And by the time Kansas girl Amy Gumm gets whisked to Oz? It's a poisoned wasteland of decay and evil. Dorothy's regime incites anger and rebellion, and Amy must side with the formerly wicked witches and their followers in order to bring back Oz.
The quick, endlessly entertaining trilogy takes the familiarly idyllic world of Oz and puts a twisted, dark spin on it. The series isn't trying to impress anyone with flashy prose or wow critics with the deep subject matter. Instead, it focuses on the originality, the adventure, the nonstop action. Where the Lunar Chronicles tried to tackle almost half a dozen fairy tales and cram them into a modernized, cyborg-filled world or the Land of Stories attempts to spin loads of well-known fables into a brand new tale, Dorothy Must Die simply takes its one story and makes it exciting. Where others felt intense or too mammoth a task to read, it feels so easy to read Dorothy Must Die. With its twist-to-twist plot and remarkably entertaining heroine, it makes a good beach-read, a good cozy-by-the-fire read, or a good stay-up-til-3-am-to-finish-it read.
The main character, Amy Gumm, is a rare gem of a heroine–she's actually relatable, has a complex set of moral beliefs, and turns into a true (anti)hero throughout the course of the trilogy as she learns the lengths she'll go to bring about peace to the land of Oz. The world was redone in a fantastic way, as Paige added layers onto the Oz we already know and love. And the adventure never really has slow points as we're dragged from twist to twist without break. However, one of the trilogy's best parts is also one of its worst. The series isn't particularly deep or intense and can turn some readers away because of different expectations. It's not an epic saga or a book that should be displayed at the front of a bookshelf, and if you go into it expecting greatness, you might be underwhelmed.
In conclusion, if you're looking for action, magic, and a lovely spin on a well-known story, then Dorothy Must Die is the adventurous fairy tale you seek.
Leave a Comment
About the Contributor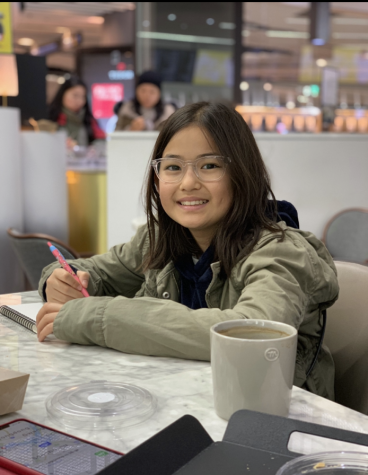 Sabrina Kim, Reporter
Sabrina Kim loves to write, draw, knit, and act, among many other things. She's got a stack of books a mile high and not enough time in the day to read...