Music Spotlight: shadowatnoon
shadowatnoon's YouTube OSTs are an underrated resource for studying, gaming, or just all-around good vibes
Most everyone has picked up a Nintendo game at some point or another. Whether that's crushing the Twilight Princess far past your bedtime on a chilly, 2015 night or playing Wii Sports with your friends on a rainy afternoon. Even the most casual of gamers have probably played a lap or two of Mario Kart while waiting for their parents to pick them up. Everyone has at least one memory attached to this franchise–and it's these emotional attachments and a strong, collective knowledge of what Nintendo games feel like–campy colors and cartoony characters that makes the music find some special place in all of us. This is where shadowatnoon comes in.
A YouTuber and Twitch streamer, shadowatnoon has found their little niche following compiling the best Nintendo beats into themed playlist and occasionally overlaying ambient noises like rain or snow. Two of their most popular mixes–both hovering near 2.5 million views on YouTube–are Animal Crossing and Legends of Zelda rainy OST's. For the uninitiated, OST's stands for original soundtracks. These rainy mixes are great resources to help you focus in on whatever you should be doing, and great creative background noise as well. The cheery, comforting music–for whatever reason–makes homework time blow by.
But shadow doesn't do exclusively chill, relaxing mixes. Their most popular video by far is their "no thoughts, head empty" mix, the first installment in their ongoing head empty series. These are compilations of all Nintendo's strangest tunes–think Mii Maker music, any music involving the Toads of the Mushroom Kingdom, or Kirby's peppy but slightly outlandish music. These mixes might not be as well suited to studying, as they really do have a thought-cancelling, head-deleting effect. But they're a lot of fun and are great to listen to when you're looking for a little bit of that Nintendo weirdness.
Everyone knows we're looking for an out to all this–some sort of escape to a cheerful world filled with yellow mystery boxes and vibrant mushroom folk–and shadowatnoon's dreamy mixes are the solution we've been searching for.
Photo Credit: Nintendo Life
Leave a Comment
About the Contributor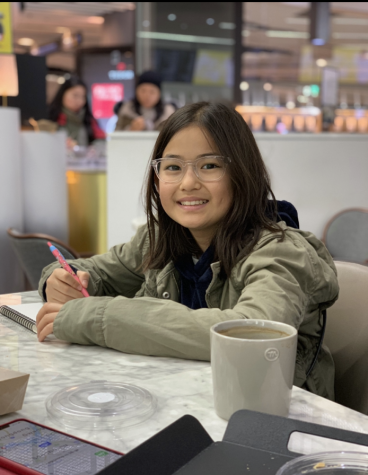 Sabrina Kim, Reporter
Sabrina Kim loves to write, draw, knit, and act, among many other things. She's got a stack of books a mile high and not enough time in the day to read...