Rebuilding Notre Dame One Tree at a Time
A look at the reconstruction efforts of Notre Dame 2 years after the fire
More than 2 years ago, the world watched in horror as one of the most famous cathedrals of all time was burning uncontrollably. More than 400 fire fighters were tirelessly working to put out the flames. Later that day funds started pouring in to repair the Notre Dame. Restoration is on its way to repair the Notre Dame, but what exactly is being done to repair this icon of Paris and why is it so special?
What is so Remarkable about the Notre Dame?
The Notre Dame is one of the most well known landmarks of Paris. About 14 million people travel to Paris each year to view the Notre Dame cathedral which is located on the Paris Island called "Île de la Cité". A lot of history is tied to this cathedral. The Notre Dame was built between 1163 and 1345 which makes it more than 900 years old. The cathedral is known for its gothic style which consists of pointed arches and flying buttresses. There are a lot of famous stained glass windows, frescos, and statues inside the Notre Dame. Also contributing to the popularity of the church is the book The Hunchback of Notre Dame, written by French writer Victor Hugo in 1831. The Hunchback of Notre Dame has been adapted over a dozen times for film and been translated into many languages.
Reconstruction of the Notre Dame
After a lot of discussion over whether the design of the cathedral should be altered, or stay the same, the Notre Dame cathedral is set to be identically restored to its original design. In order for that to happen, trees dating back to the French Revolution are being used to repair the 315 foot famous spire. This year, a little over 1,000 trees are going to be felled to recreate the wooden lattice of the roof and the spire. The trees are more than 3 feet wide, over 60 feet tall, and about 230 years old, making this a historic rebuild for the Notre Dame. The trees will be dried for 12 to 18 months to insure that they will be stable enough for the reconstruction. Construction workers have nicknamed the cathedral roof "la forêt" which means the forest in French because so many trees are being used.
Hopefully the Notre Dame will be restored soon, and then Notre Dame can open its doors to visitors again. French President Emmanuel Macron said the the Notre Dame is set to be fully rebuilt by April of 2024. Many experts are doubting the timeline because Covid-19 has already considerably slowed down the reconstruction process.
Featured image by CNN
Leave a Comment
About the Contributor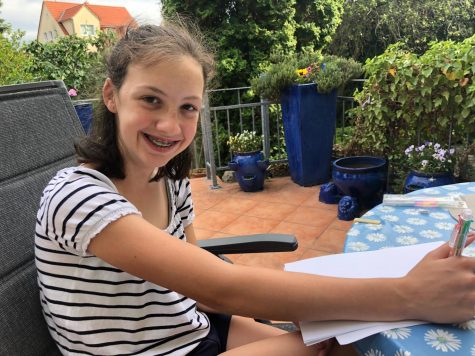 Lena Boas, Editor
Lena Boas loves to play soccer and run track. She enjoys traveling to other countries and learning about different cultures. She also plays piano and is...