Red (Taylor's Version)
In 2012, a twenty two year old Taylor Swift released her fourth studio album, Red. The album was a hit, and began establishing the "new" Taylor. Before Red, Swift was best known for her country songs. With Red, we saw an older, more mature Taylor, who started to branch out from the country sound that established her career, into more classic pop. In June of 2021, Swift announced that she would be rerecording Red, and release it November of the same year. November 12, the album came out.
Taylor's Version: The History
Why would one of the biggest artists in the world, one who's still releasing new albums, rerecord her old hits? Well, it's because Taylor Swift doesn't actually own the master recordings of any of her songs released prior to 2019's Lover. This is because of the contract Swift signed with her old record label. Swift parted ways with record label, and signed with her current label. Swift decided to reclaim her previous albums the best way she could: rerecording them. In February, Swift announced she had rerecorded her 2008 album Fearless. Two months later, Fearless (Taylor's Version) released to widespread acclaim.
Red (Taylor's Version)
Red (Taylor's Version) includes rerecorded versions of the 16 original songs on Red, as well as 14 "from the vault" songs. On all the songs Swift nails her performance. Her voice has matured over the years, but it doesn't take away from any of the songs. In fact, I think it enhances them. The production is sharp, and perfectly fits the lyrics. Ed Sheeran returned to collaborate on both Everything Has Changed and Run. Gary Lighthouse features on The Last Time, and Phoebe Bridgers features on Nothing New, which is definitely my favorite of the collaborations. All of the artists' voices blend beautifully with Swift's, especially Bridgers'. And of course, there's All Too Well ( 10 Minute Version). The extended version of the fan favorite song is arguably the most highly anticipated song off the album. Swift's lyrics combined with the soft, autumnal production create an absolute masterpiece. The song pulls you in, and holds you. It really builds, and the payoff is incredible. I love everything on this album, but All Too Well (10 Minute Version) is definitely the standout.
Red (Taylor's Version) is an absolute triumph, and I can't wait for the next album Swift re-records.
Leave a Comment
About the Contributor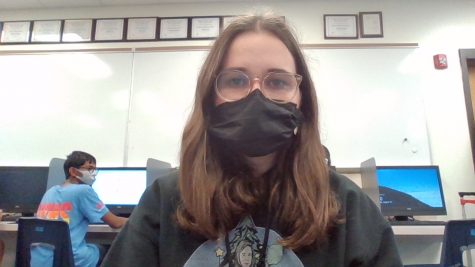 Mayla Montgomery, Reporter
Hi, I'm Mayla! I'm an eighth grader here at CVMS. In my free time I love acting, swimming, watching TV shows and movies, and sleeping. I have one little...