Antoni Gaudi: Distinctive Architecture
Architecture has grown dull as the years pass by. Office buildings and squat stores have been dominant in infrastructure, and there is nothing much to see in buildings nowadays. There was a time, however, in which construction was incredible and extremely idiosyncratic. One architect who contributed to the prominent aspect of this was Antoni Gaudi. His construction style consisted of mainly the revival of older styles, with noticeable Catalan embellishments – a tribute to Gaudi's original roots. Included here is a list of his most astonishing buildings from his expansive career.
1. La Sagrada Familia
The towering La Sagrada Familia broke so many norms with its existence. With its small marble-looking berries atop its crown, and eccentrically structured pillars, every aspect of this church is one of a kind. Since its construction just restarted after more than a hundred years, this increases its ability to combine the new with the old.
2. Casa Milà
Created by Gaudi in the early 1900s, during its time period, the Casa Mila was extremely unconventional. As such, it wasn't easily accepted. Regardless, it is now an impressionable piece of history. Its most characteristic features include its curvy silhouette and the sculpture museum on its rooftop. Given that this once belonged to a single family, it's quite lavish. The Casa Milà still includes furniture from its prime era inside of it, which provides an ample time machine for curious historical enthusiasts.
3. Casa Batlló
Casa Batlló is indeed a building you would happen upon in your dreams. This building is an explosion of color, with fairy tale aspects crowning the beauty of it all. With a roof of gumdrop like tiles, colored window glass, and an interior that seems to be built of sand, the Casa Batllo is a spectacle to behold.
4. Park Güell
Where parks generally aren't something to be seen as art, Park Güell makes space for an exception. With recognizable Gaudi inclusions, this park is certainly an adventure. Found in this park is an intricate cave, marble roofed buildings, a winding trail, and a mural balcony that provides a view of Barcelona.
Leave a Comment
About the Contributor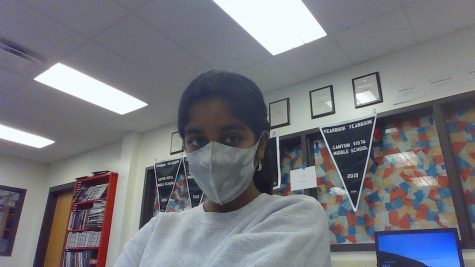 Divya Shankar, Reporter
I'm in eighth grade - I love writing, taking and editing pictures, and watching movies