Choir Fall Concert
Hang on for a minute...we're trying to find some more stories you might like.
On the evening of Friday, October 18th, the choir ensemble at Canyon Vista presented a spectacular performance at the Bethany Methodist Church. Four choir ensembles, Honors Choir, Treble Choir, Sixth Grade Choir, and Boys Choir sang many unique songs, including "Remember Me," "Time's Secret," and "Gallant Knight."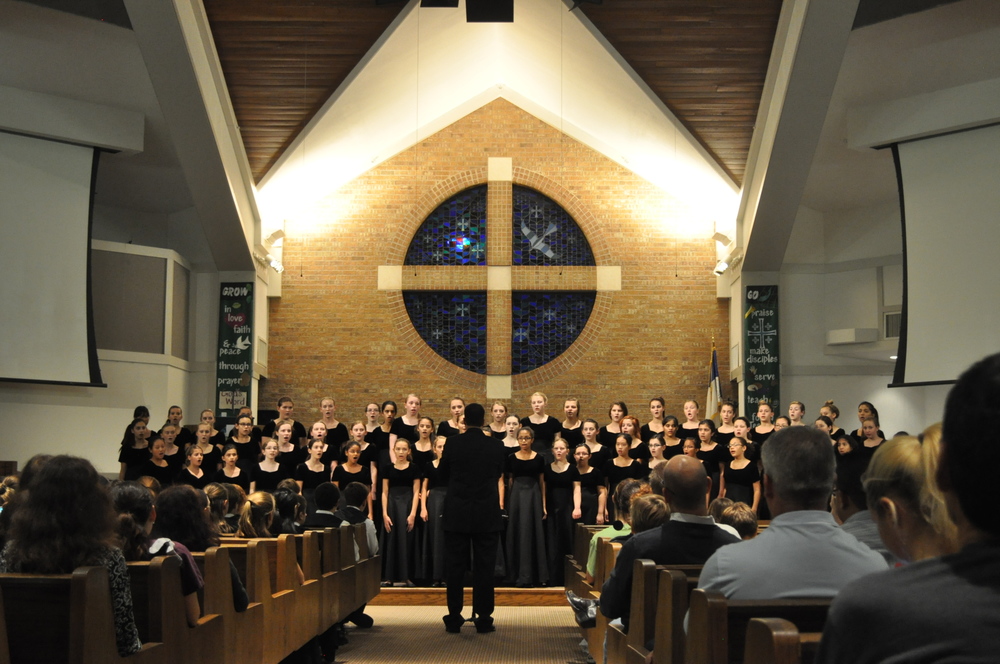 Mr. Vara conducts Treble Choir at Bethany Methodist Church in Austin on October 18th. Photo by Katie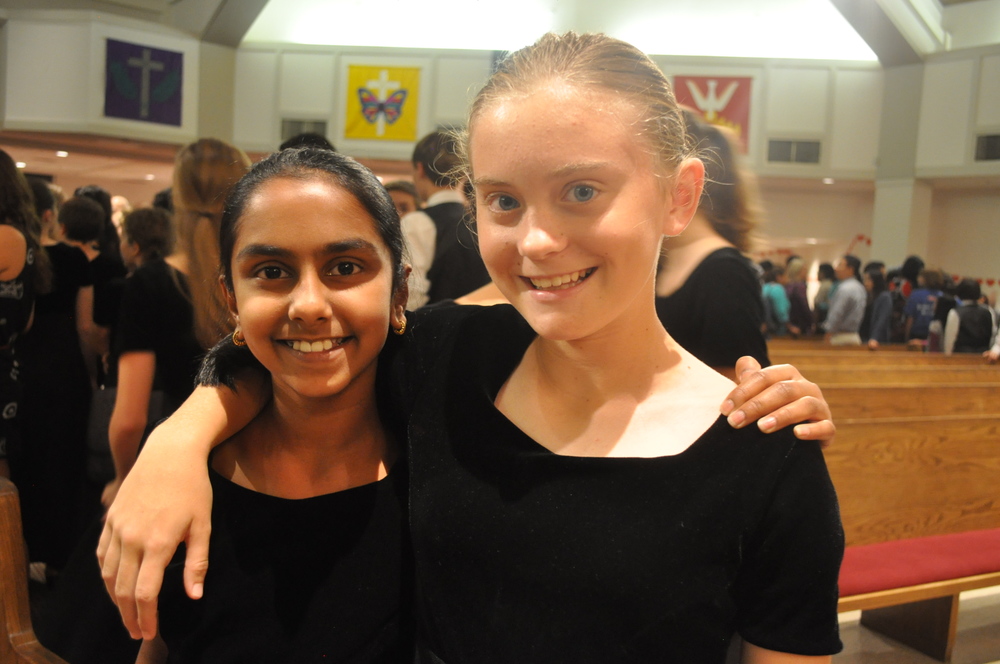 Seventh graders Pooja E. and Elizabeth D. enjoy singing in choir. Photo by Katie
Each choir consists of many talented students, and each contributed their voice in their special way. Mr. Vara, the director of choir, spends a lot of time working with the students and helping them to perfect their voice. Seventh grader Elizabeth D., who is in Treble Choir, said that she likes choir because "Mr.Vara is really funny and it's a lot of fun to work on the songs and to perfect them."
Vara stated that the choirs had very few rehearsals and that they put in tremendous effort. "So far, we've met most of our goals, and they have given themselves the opportunity to build success," said Vara. "I think they learned that it takes a lot of work before hand. They have to work together as a team."
Vara said that he felt the songs were challenging literature for each group. Many of them, he chose from a group of songs from the summertime. Honors Choir, which consists of auditioned female seventh and eighth graders, performed "She Sings," "The Lamb and The Tiger," and "How Can I Keep From Singing." Treble Choir, which consists of unauditioned female seventh and eighth graders, performed "Remember Me" and "Boats Sail on the River." Sixth Grade Choir sang "Time's Secret" and "Poor Wayfaring Stranger." Lastly, Boys Choir, which includes male seventh and eighth graders sang "Gallant Knight" and "Cantate Domino."
"Boats Sail on the River" was the most enjoyable song for Elizabeth to learn because the song consists of three parts and she said it was fun to put them together. "I think [choir] is a great way to express yourself through singing," said Elizabeth. She is looking forward to the Spring Show.
The four ensembles will be having two more concerts, one in the winter and one in the spring. They will also be competing in the UIL competition in March.