Underrated Musicals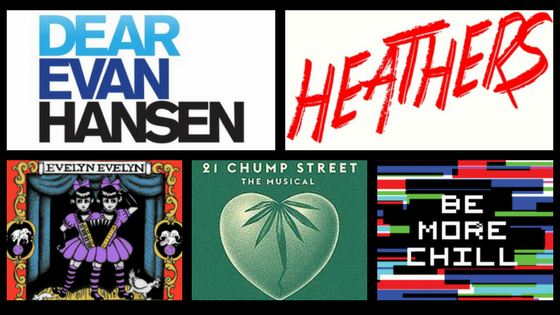 If you've been paying attention to the media in the past year or so, you've probably heard of the hit Broadway musical, Hamilton, written by Lin Manuel Miranda. Hamilton seems to be the most well-known musical right now and is becoming a household name along with classics such as Wicked and Les Miserables.
These may be the ones constantly in the spotlight, but there are many others that get pushed aside, and forgotten. Here's a master list of underrated musicals to give a listen to!
Dear Evan Hansen
One of the newer musicals out there, Dear Evan Hansen is slowly getting the recognition it deserves, from audiences of all ages. The show is about Evan Hansen (Ben Platt) a teenager with social anxiety and a broken arm, who gets wrapped up in the death of a fellow student. With themes of family, friendship, self-discovery, and plot twists be sure to bring a box of tissues!
Heathers The Musical
Heathers the classic cult movie released in 1989, is a timeless gem, packed to the brim with sarcasm, teenage drama, and murder. It's been a hit for years but was revived in 2015, in an off-broadway production. The soundtrack features modern musical adaptations of scenes from the movie. This musical is a great companion to the original!
Be More Chill
Be More Chill is by far one of the most underrated musicals on this list. It was inspired by the book of the same name by Ned Vizzini but has many differences. A story of teenage drama, pills that make you cool, and heartbreak, it's an amazing story, with an incredible soundtrack.
Evelyn, Evelyn
One of the darker musicals on this list, Evelyn Evelyn is a story about the troubles a pair of conjoined twins faces. From nearly being sawed in half at birth, and spending years of their lives in a chicken coop, and child trafficking ring, the musical is a strange combination of genres and themes, and an interesting break from the upbeat show tunes you usually see.
21 Chump Street
Last on our list is a short musical by Lin Manuel Miranda, known most for writing and starring in Hamilton. It's based on a true story and was part of an NPR segment for Valentine's Day. It revolves around a teenager named Justin Laboy (Anthony Ramos) who was pressured into buying drugs by an undercover cop and then winds up in jail. Miranda brings a humorous yet real perspective to the story.
About the Writer Zack Catuogno, Reporter
Zack is an 8th grader that appreciates and enjoys almost nothing, with the exception of art, music, and reptiles.