Warheads Challenge: Are They as Sour as We Think They Are?
Hang on for a minute...we're trying to find some more stories you might like.
Everybody knows Warheads, the extremely sour hard candy, that literally burns tongues.
Ingredients(warning, it contains an acid that has a pH of 2.2):
Corn Syrup
Sugar
Microencapsulated Malic Acid
Citric Acid
Gum Acacia
Soybean Oil (Processing Aid)
Ascorbic Acid
Artificial Flavors
Carnuaba Wax
Corn Starch
The sour affect only lasts for about 5 to 10 seconds before dissipating into a sweet flavor.
But, are they really as sour as everybody thinks they are? Let's see.
Photo Credit: https://warheads.com/
About the Writer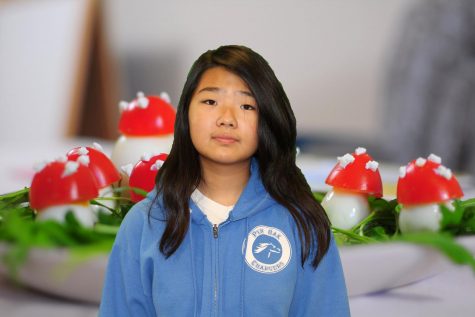 Erith Won, Reporter
Erith is an avid, enthusiastic eighth grader who lives on K-pop and Manga and loves to watch hilariously nonsensical movies. She spends her days listening to BTS and VIXX nonstop and idealizes every member of the musical groups. While pranking people, she adds her own flare and leaves people laughing unceasingly. She loves to joke and play around with her friends and even once threw a fake cockroach around during Advisory. She also loves chocolate milk and her favorite animals are killer whales. She is a genuinely fun loving spirit and is comically honest. Erith is sparklingly witty and hilariously sweet. She knows how to lift someone's spirit with a chuckle and smirking grin.