If We Could Turn Back Time (Dessert Edition)
Lets learn about desserts. There are so many and they have been here for a long time.Everyone has a sweet tooth especially me.
Ice cream and chocolates. Could we live without them! I for one, am known to have a lot of candy leftover from Halloween. How do the little kids survive without the adrenaline rush you get from sugar is there meaning to life without it. How did people live without the sweet taste of sugar, well they did have their own source of sugar? It may not have been advanced as our forms of sweets, but they did have something. After learning about this I made sure to learn about what they had back then. Most of the recipes they used were basically the ancestors of our modern-day dessert. For example our summer favorite; Ice cream. People have found ice cream that dates back to 300 hundred years ago. Chocolate was a delicacy in the 1800s. So as my personal mission I decided to find desserts that we can still make today.
Pineapple upside-down cake:
Ingredients
1/4 cup butter or margarine
1
can (20 oz) pineapple slices in juice, drained, juice reserved
1
jar (6 oz) maraschino cherries without stems, drained
1
box Betty Crocker™ Super Moist™ yellow cake mix
Vegetable oil and eggs called for on cake mix box
Steps:
Heat oven to 350°F (325°F for dark or nonstick pan). In 13×9-inch pan, melt butter in oven. Sprinkle brown sugar evenly over butter. Arrange pineapple slices on brown sugar. Place a cherry in center of each pineapple slice, and arrange remaining cherries around slices; press gently into brown sugar.

Add enough water to reserved pineapple juice to measure 1 cup. Make cake batter as directed on box, substituting pineapple juice mixture for the water. Pour batter over pineapple and cherries.
Bake 42 to 48 minutes (44 to 53 minutes for dark or nonstick pan) or until a toothpick inserted in center comes out clean. Immediately run a knife around side of pan to loosen cake. Place a heatproof serving plate upside down onto pan; turn plate and pan over. Leave pan over cake 5 minutes so brown sugar topping can drizzle over cake; remove pan. Cool 30 minutes. Serve warm or cool. Store covered in the refrigerator.
Baked Alaska:
Ingredients
Vegetable oil, for brushing
1-pint raspberry, passion fruit or other sorbet, softened
1-pint vanilla ice cream softened
1-quart chocolate ice cream softened
1 cup chocolate wafer crumbs (about 17 crushed wafers)
1 loaf pound cake
1 cup egg whites (about 6 large), at room temperature
Pinch of cream of tartar
1 cup sugar
Steps:
Make the ice cream cake: Brush a 3-quart metal bowl with vegetable oil; line with plastic wrap. Fill the bowl with scoops of the sorbet, vanilla ice cream and half of the chocolate ice cream, alternating small and large scoops to create a mosaic of colors and shapes. Place a piece of plastic wrap on top of the ice cream; press down to close the gaps between scoops and even out the surface. Remove the plastic wrap, sprinkle the ice cream with the wafer crumbs and re-cover with the plastic wrap, pressing gently. Freeze until set, about 30 minutes.
Remove the wrap and spread the remaining chocolate ice cream in an even layer on top of the crumbs. Cut the pound cake into 1/2-inch-thick slices; completely cover the ice cream with the slices, trimming as needed (you'll use about two-thirds of the cake). Cover with fresh plastic wrap and freeze until firm, at least 2 hours or up to 2 days.
Make the meringue: Whip the egg whites and cream of tartar in a large bowl with a mixer on medium-high speed until foamy, about 2 minutes. Gradually beat in the sugar on high speed until the whites are glossy and hold stiff peaks.
Remove the top layer of plastic wrap, then invert the cake onto a parchment-lined baking sheet. (If necessary, let the cake stand overturned until it slips out.) Remove the rest of the plastic wrap and cover the ice cream completely with the meringue, making the dome-shaped top slightly thicker than the sides. Form swirly peaks in the meringue using the back of a spoon. Freeze for at least 3 more hours.
Preheat the oven to 500 degrees. Bake the cake until the meringue peaks are golden, about 4 minutes, or brown the meringue with a blowtorch. Let the cake soften at room temperature for 5 to 10 minutes before slicing. Freeze any leftovers.
About the Writer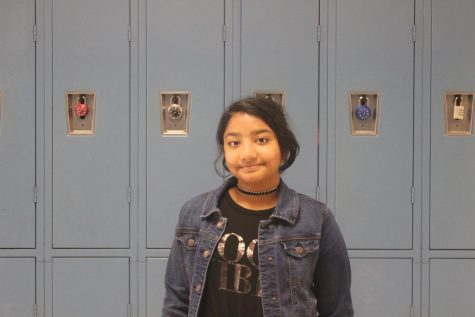 Nikita Raman, Reporter
Nikita is a creative individual who is interested in writing. Her hobbies include making awful puns as well as acting and singing. she has been swimming...