All About Disney Movies!
Disney is such a famous company, known for amazing, fun, and touching movies. But I think it's worth finding out about the history of the famous company, then just watching movies. Let's find out about how the business started, the struggles it faced, and some of Disney's most famous movies.
Disney was set up on October 16, 1923, by brothers Walt and Roy O. Disney. It was first named "Disney Brothers Cartoon Studio". The names were changed several times, such as  "The Walt Disney Studio" and "Walt Disney Productions" before officially changing its name to The Walt Disney Company in 1986. The first movie filmed was "Alice's Wonderland", in 1923. After that, Disney moved to Hollywood, to work with his brother, Roy O. Disney. Margaret J.Winkler, from M.J Winkler Productions, contacted Disney with plans to make a whole series of "Alice's Wonderland". After the end of the "Alice's Wonderland" series, Disney filmed another animation, starring a character named Oswald the Lucky Rabbit, distributed by Universal Pictures. Disney completed 27 Oswald shorts before losing the contract in March 1928, when Winkler head Charles Mintz hired away four of Disney's primary animators to start his animation studio, Snappy Comedies.
In 1928, to recover the loss of Oswald, Disney thought of an idea of a mouse character named Mortimer. Later, he changed the name to Mickey Mouse, because his wife Lilian disliked the name Mortimer Mouse. Later, on November 18, 1928, he made a cartoon named " Steamboat Willie", with Mickey Mouse as the star. It was distributed through Pat Powers' distribution company. The cartoon was a great success, because of Mickey's appeal as a character, but also because it was the first cartoon to feature synchronized sound. He began the "Silly Symphony" series with Columbia Pictures, in August 1929. And also in September 1929, Disney made a Mickey Mouse club.
Deciding to push himself harder, Disney began to make an animated film in 1934. Taking three years to complete, "Snow White and the Seven Dwarfs" premiered in December 1937. It was released through RKO Radio Pictures. With the profit they earned, Disney built a studio in Burbank, California, and opened for business in 1939. Many films were made, such as Pinocchio in 1940, Fantasia in 1940, Dumbo in 1941, and Bambi in 1942.
But, after World War II began, Disney's business declined. Many of his animators were drafted into the armed forces. After the war ended, Disney again released many animations, like Cinderella in 1950, Alice In Wonderland in 1951, Peter Pan in 19553, and more. Disney ended its distribution contract with RKO in 1953, forming its own company, Buena Vista Distribution. Disney continued making movies, and in 1954, Disneyland was created, an idea conceived out of a desire for a place where parents and children could both have fun at the same time. On July 18, 1955, Walt Disney opened Disneyland to the general public. But, On December 15, 1966, Walt Disney died of complications relating to lung cancer, marking the end of an era for the company.
Even though Disney died, Roy O. Disney continued the business, and made other great films, like The Jungle Book, Robin Hood, The Little Mermaid, Aladdin, The Lion King, The Toy Story, Mulan, Tarzan, and so much more. The newest Disney movie is Black Widow, available in Disney+. 
Leave a Comment
About the Contributor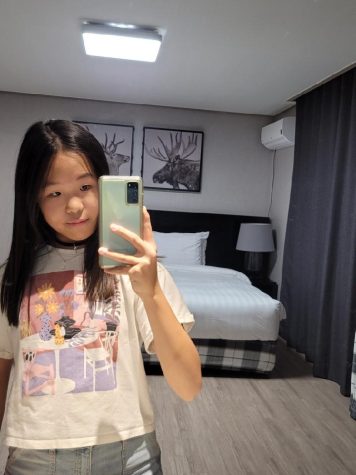 Jasmine Choi, Reporter
My name is Jasmine, and I am currently the copy editor in News Media class. I like reading, art and swimming.