CVMS Library is Open to (a Few) Visitors!
Beginning this week, a small amount of students will now be allowed to safely and speedily access the Canyon Vista Library.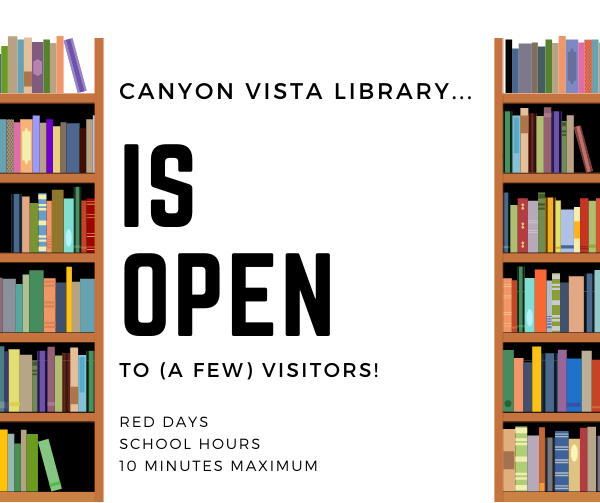 As more and more people over the age of 16 are getting vaccinated, more and more opportunities are forming for those willing to be safe. One such opportunity is the Canyon Vista Library. In a normal year, students breeze in and out between classes and lunch breaks, groups can be seen studying in a quiet corner, and Language Arts classes congregate on spinning chairs and iPads. The library was always abuzz with activity–until this year. But now, as Mrs. Stiles and the rest of the library staff work to keep books clean and areas sanitized, the Canyon Vista Library is now open to visitors!
As with all things, the CVMS Library cannot open unless it is deemed safe by some larger organization. That's why, if you're planning on visiting, there are strict regulations in order to ensure students and faculty can continue to use the library in a way that is unthreatening to their health. For starters, the library is only allowing four to five students in at any given time, and they will be restricted to a maximum of ten minutes. Masks, 6 feet of distance, and hand sanitizer will be required if you'd like to use the library's services. The library staff will be present to help visitors with searching or browsing for books. Additionally, the library will no longer permit using their chairs and other seating options to lounge or use at visitors' leisures.
Before you go, you need to get your teacher's permission and fill out a Sign-Up Google Form.
The library will be open every red day for you to:
Pick up holds placed online
Check out books
Research or ask questions
Take photos or Student IDs for new students
Browse with a specific goal
Though it may seem like a lot of hoops to jump through for some books, the library opening is a huge and very exciting step towards a little bit of normalcy. The library and its staff are a staple of Canyon Vista, and their hard work towards getting us books will always be very much appreciated. Be sure to practice all the measures they've put into place and enjoy the books and resources the Canyon Vista Library has to offer.
Leave a Comment
About the Contributor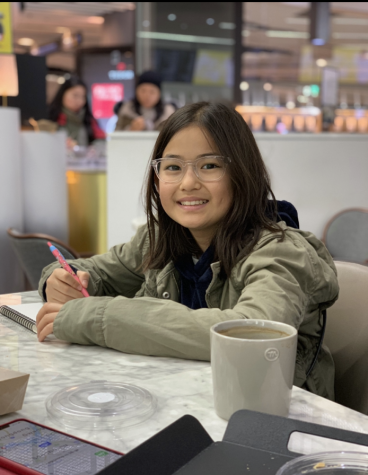 Sabrina Kim, Reporter
Sabrina Kim loves to write, draw, knit, and act, among many other things. She's got a stack of books a mile high and not enough time in the day to read...